Unpacking Mobility as a Service (MaaS) in Asia Pacific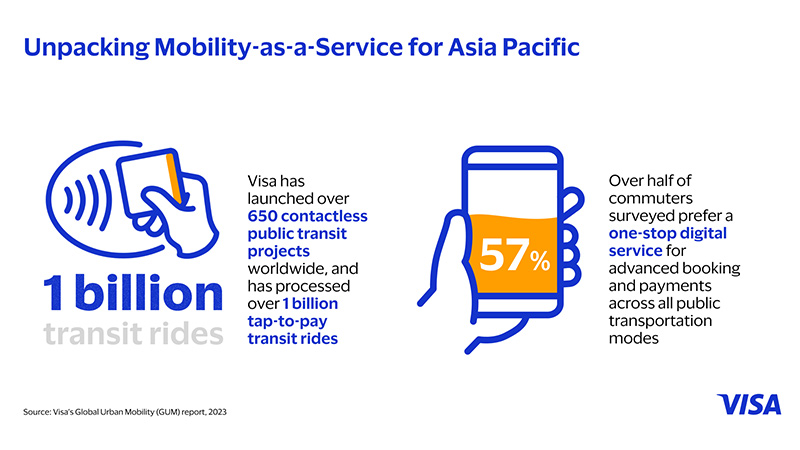 In Asia-Pacific's increasingly urbanised cities, public transportation is the lifeblood of economic activity. Take Hong Kong, for example, where an average of over seven million people rely on public transport.1 Similarly, Singapore's transit system handles an average daily ridership of 6.4 million.2
The growing importance of public transit to people's lives is changing the way commuters think about mobility. Choice, convenience and contactless payments drive the use of public transit in Asia Pacific, and they are also fueling demand for one-stop mobility-as-a-service (MaaS) platforms.
On-demand transit

By year-end, Singaporeans will have the convenience of using a single app to plan and pay for their citywide trips, whether by rail or bus.3 With the SimplyGo app, public transport in the city state will be smoother and more seamless.
MaaS platforms like SimplyGo offer a single digital interface for planning, booking and paying for commuters. They can point users to the most suitable transportation options for their journey, whether it's a train, bus, cab, ferry, bike- or car-sharing service, or a mix.
The new Visa Global Urban Mobility survey conducted by Wakefield Research4 points to a clear demand for MaaS solutions in Asia Pacific, with more than half (57 percent) of commuters in the region saying they prefer a one-stop digital service for advanced bookings and payments across all public transportation modes. 
Similarly, in Japan, apps like Navitime offer route planning, train timetables, multilingual support, offline maps and travel guides. Sydney recently piloted a travel subscription scheme where commuters paid a fixed monthly rate for the convenience to access a variety of public transportation options anytime, anywhere. 
MaaS-ive opportunity
Outside of Singapore, Japan and Australia, however, MaaS is still a new concept in Asia Pacific, where travel services remain fragmented. For example, map service providers may suggest the best mode of transportation depending on the time of day, but they may not offer access to ticketing. Similarly, some widely used transit payments systems do not have journey planning features.
MaaS presents opportunities for technology and payments firms to partner with transport companies and governments to plug this gap and transform the commuter experience, while solving the challenges of urbanisation in Asia Pacific, such as road congestion and air pollution. For example, the Sydney trial estimated that every dollar spent on incentivising subscribers to use the public transit options tied to the subscription bundle reduced CO2 emissions by three kilograms.5
MaaS platforms can also provide rich data on travel demand patterns, helping transit operators and city planners design and implement more effective and rider-friendly transport programmes. The potential for mobility services in Asia is enormous: the market is estimated to reach US$337 billion by 2030, eclipsing North America (US$175 billion) and Europe (US$144 billion).6
Unlocking MaaS' potential
However, deploying MaaS at scale faces key hurdles, such as the lack of interoperability between digital payments systems. These are worsened by legacy closed-loop payment architecture, which require commuters to use more than one card when riding different forms of public transport. Visa's survey shows half (49%) of Asia-Pacific commuters use four or more different payment methods for transportation each month.
That is a hassle many Asia-Pacific commuters want to avoid. Visa's Global Urban Mobility Survey found that 44 percent said they would use different forms of public transportation if they can pay with a single payment method. Furthermore, 65 percent said they are likely to use a contactless payment option for their public transport needs.
Fortunately, policymakers across the region are taking notice and making changes: The Australian state of Victoria is introducing contactless payments for myki, the card used in public transit throughout the state.7 India has launched the National Common Mobility Card, a contactless and interoperable card to pay for the metro, bus, suburban railways, and parking, as well as at certain retail outlets.8
Another major challenge is the lack of cooperation among various stakeholders such as public transport operators, payments services providers, and journey planning apps. MaaS platforms work by harnessing the expertise of different sectors, which means partnerships across sectors are crucial. This, in turn, requires strong public sector leadership, as seen in India, Singapore and Australia, where governments recognise that technology is integral to public transportation.9
Lastly, secure open-loop payments are essential for MaaS platforms. In many MaaS trials around the world, digital payments experts like Visa are playing a pivotal role in helping governments design, test and implement contactless payments systems for public transit. In recent years, Visa alone has launched over 650 contactless public transit projects worldwide, which processed over 1 billion tap-to-pay rides, and we are committed to sharing the best practices we learned from these projects with governments and transit operators in Asia Pacific.
As consumers in Asia Pacific become more cashless and demand for public transport grows, MaaS is set to shape become a key solution to the challenges of tomorrow's cities.
Visit the Visa Global Urban Mobility website for the latest mobility insights in Asia Pacific.
1 https://www.td.gov.hk/en/transport_in_hong_kong/transport_figures/monthly_traffic_and_transport_digest/2023/202306/index.html. Data as of 2022.
2 https://www.lta.gov.sg/content/dam/ltagov/who_we_are/statistics_and_publications/statistics/pdf/PT_Ridership_Monthly_2019-2022.pdf. Data as of 2022
3 https://www.transitlink.com.sg/simplygo-branding-for-one-stop-transit-ticketing-and-travel-card-services/; https://www.simplygo.com.sg/
4 The Visa Global Urban Mobility Survey was conducted by Wakefield Research in May 2023 among 11,500 respondents in 12 markets who take public transportation: Singapore, Japan, Egypt, Australia, United States, Indonesia, United Kingdom, Pakistan, Germany, Italy, Mexico, and Chile. It measures sentiments on public transport and consumer payment behaviours when taking different modes of transportation. See https://www.prnewswire.com/apac/news-releases/visas-survey-reveals-need-for-integrated-payment-solutions-in-asia-pacifics-public-transport-sector-301900496.html
5 https://imoveaustralia.com/wp-content/uploads/2021/04/Sydney-MaaS-trial-brochure.pdf
6 https://www.oliverwymanforum.com/mobility/2022/oct/how-super-apps-are-fueling-asias-308-billion-mobility-share.html
7 https://www.themandarin.com.au/228160-contactless-transport-payments-in-victoria-cba/
8 https://www.outlookindia.com/business/govt-pushes-for-national-common-mobility-card-key-features-and-benefits-you-should-know--news-304367
9 https://www.transport.nsw.gov.au/data-and-research/nsw-future-mobility-prospectus/nsw-future-mobility/ministers%E2%80%99-foreword; https://www.smartnation.gov.sg/initiatives/strategic-national-projects/smart-urban-mobility/; https://www.hindustantimes.com/india-news/one-nation-one-mobility-card-all-you-need-to-know-about-ncmc/story-NafU1DgPbIhScJadOe68EI.html