Choice, Convenience, Contactless: Future of Public Transit in Asia Pacific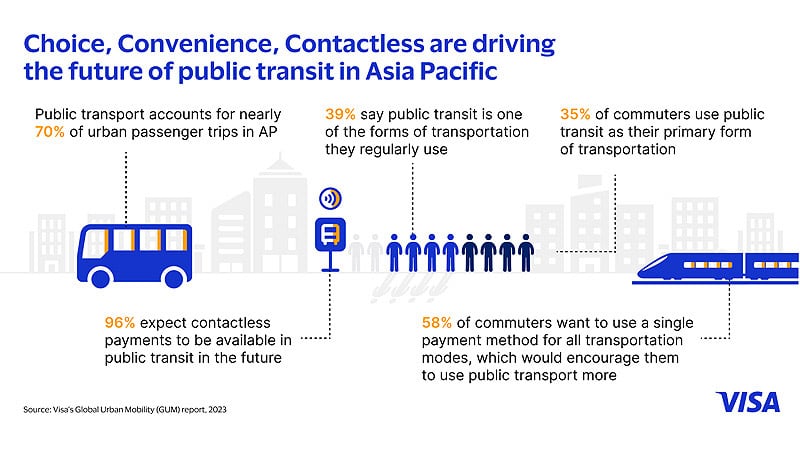 Asia Pacific has one of the fastest-growing urban populations in the world with 44 million people moving to cities every year – that's 120,000 people every day.1 With public transit accounting for nearly 70 percent of urban passenger trips in the region2, how people move around cities has become a critical issue for governments, transport providers and urban planners. 
The urban influx has turned road congestion into a perennial problem and improving access to and usage of mass public transit is seen as key to meeting the urban mobility needs. It is no wonder governments from India to Indonesia are investing heavily in mass rapid transit systems.3
As public transit becomes a way of life in a region that has embraced digital and cashless transactions, seamless payments will be crucial to its growing importance to everyday life.
Convenience counts
When it comes to payments, Asia Pacific commuters want practicality and convenience. In the latest Visa Global Urban Mobility survey conducted by Wakefield Research in May4, we found that 35% use public transit as their primary form of transportation, while 39% count it as one of the forms of transportation they regularly use.
Most notably, three out of five respondents (58%) expressed a desire to use a single payment method for all transportation modes, which would in turn encourage them to use public transport more.
Half (49%) of Asia Pacific commuters said they use four or more different payment methods for transportation each month. While multiple payment methods, like cash and top-up cards, offer choice, they can also cause inconvenience. For example, paying by cash can add to transit time if commuters have to line up at ticket counters or fumble for change. Should commuters not have the exact change for the bus fare, they could end up paying more. 
A single payment method would eliminate these hassles and encourage people to use public transportation more. In Asia Pacific, our survey showed that 39 percent of commuters would take more public transit trips a day if they were able to cover all payments using a single payment method.
Easing this payment bottleneck presents a significant opportunity for governments and transport operators in getting people to embrace public transit systems.
Tapping benefits
With contactless or tap-to-pay cards, gone are the days of fishing for coins in your purse, making for a smooth public transport boarding experience and, perhaps more importantly, avoiding the ire of fellow commuters. 
Contactless payments also guarantee exact fares for transit riders so they don't have to overpay if caught short on change. According to the Visa Global Urban Mobility survey, almost half of commuters in Asia Pacific (45%) would use public transport more frequently if their journeys were fare capped.
They also help commuters save money with some transit systems offering discounts on digital payments while others cap fares, limiting how much commuters pay for their rides in a day, week, or month, eliminating the need to tie up funds on a monthly pass or transit card.
Tellingly, 65 percent of respondents in Visa's Global Urban Mobility survey said they are likely to use a contactless payment option for their public transport needs. These options include debit, credit, or prepaid cards, as well as mobile wallets or wearables. A global study conducted by Visa Economic Empowerment Institute in partnership with ThoughtLab in 2023 showed that the use of contactless, open-loop payments systems can increase public transit use by 10 percent.5
Cities like Hong Kong and Singapore, whose residents enjoy such payment choices in public transport, are among the highest users of public transit in the world.6 In recent years, the use of contactless cards has widened in these cities7 through global payments specialists like Visa, with cutting-edge payments technology available in trains, buses, ferries and even on the century-old trams in Hong Kong8.
The growing adoption of contactless cards is not limited to advanced economies either. In Vietnam, Visa partnered with the Ho Chi Minh City Department of Transportation to implement digital payments, allowing riders to use their existing payment cards, mobile wallets, or wearables to pay for transit fare, e-tickets, electric vehicle charging, tolls, and parking.9
No rider left behind
Indeed, commuters expect contactless payments to be the future of mobility in Asia Pacific: our survey shows 96 percent expect public transport providers to offer contactless payment methods. This makes for a compelling case for governments and transport companies to seriously consider seamless payments as a solution to the region's urban mobility challenge.
A lot is riding on this: while people from all walks of life take public transit, lower-income families often rely on public transportation as their primary means of mobility. Ensuring that they have access to integrated and contactless payments means they are not left behind in this shift.
Before scaling adoption, challenges such as data management and interoperability between digital payments need to be addressed. Visa's global leadership and experience in enabling digital payments in public transit has seen us support over 650 contactless public transit payment projects worldwide10, and we continue to work with governments and transport operators to improve urban mobility options for everyone.
This makes public transit easier and more convenient, creating happier commuters and ultimately, more livable cities for all. 
Visit the Visa Global Urban Mobility website for the latest mobility insights in Asia Pacific.
___________________________________________
1 https://blogs.adb.org/blog/asia-s-cities-need-quality-public-transport
2 https://www.prnewswire.com/apac/news-releases/visas-survey-reveals-need-for-integrated-payment-solutions-in-asia-pacifics-public-transport-sector-301900496.html
3 https://www.reuters.com/article/us-indonesia-transport-idUSKCN1UK16I; https://www.kearney.com/industry/infrastructure/article/-/insights/harnessing-the-opportunities-in-india-s-transportation-infrastructure
4 The Visa Global Urban Mobility Survey was conducted by Wakefield Research in May 2023 among 11,500 respondents in 12 markets who take public transportation: Singapore, Japan, Egypt, Australia, United States, Indonesia, United Kingdom, Pakistan, Germany, Italy, Mexico, and Chile. It measures sentiments on public transport and consumer payment behaviours when taking different modes of transportation. See https://www.prnewswire.com/apac/news-releases/visas-survey-reveals-need-for-integrated-payment-solutions-in-asia-pacifics-public-transport-sector-301900496.html
5 https://usa.visa.com/content/dam/VCOM/regional/na/us/sites/documents/veei-reimagining-ridership.pdf
6 https://www.td.gov.hk/filemanager/en/publication/ptss_final_report_eng.pdf
7 https://www.visa.com.sg/about-visa/newsroom/press-releases/visa-contactless-payments-now-live-for-singapore-transit.html; https://www.scmp.com/news/hong-kong/transport/article/3178895/visa-rolls-out-tap-phone-app-hong-kong-taxi-trade-it-eyes
8 https://www.visa.com.hk/en_HK/visa-offers-and-perks/hong-kong-tramways/154401#:~:text=From%20now%20until%2031%20December,ride%20priced%20at%20HK%243.
9 https://www.visa.com.vn/en_VN/about-visa/newsroom/press-releases/visa-to-transform-urban-mobility-with-its-renewed-partnership-with-ho-chi-minh-city-department-of-transportation.html
10 https://www.prnewswire.com/apac/news-releases/visas-survey-reveals-need-for-integrated-payment-solutions-in-asia-pacifics-public-transport-sector-301900496.html