Visa Survey: Affluent Singaporeans plan to spend more this year
07/01/2014
Family holidays followed by designer handbags, designer watches and designer clothes top the list of most likely luxury purchases to be made overseas
Singapore - Brighter days for the economy are just around the corner according to a recent survey by global payments technology company Visa, in which more than half of all respondents believe Singapore's economic situation will improve this year.
The Visa Affluent Study 20141, which tracked attitudes to spending among affluent Visa cardholders in 11 markets, shows that eight in ten (82 percent) respondents from Singapore intend to spend the same or more this year than they did in 2013. The number of respondents that feel employment opportunities will deteriorate in the next 12 months has also halved to just one in five (21 percent) compared with the previous year (41 percent).
Ooi Huey Tyng, Visa Country Manager for Singapore and Brunei, said: "There is a more positive outlook amongst affluent consumers as shown in the increase in year-on-year optimism about the local economy. This suggests an increased willingness for people to open their wallets, especially for discretionary spending categories such as dining, entertainment and travel."
Respondents in Singapore were optimistic about economic growth with one in two respondents (52 percent) saying that they believe the local economic condition will improve in 2014, compared with 40 percent in 2013. The most optimistic country in Asia Pacific is Mainland China with 69 percent believing their local economy will improve this year. At the other end of the scale, Indonesia has the largest reduction in the proportion of those who are confident about the local economic condition with less than half (48 percent) believing their economy will improve in 2014 compared to 65 percent last year.
Along with expectations of better economic and employment opportunities this year, more affluent respondents in Singapore are looking forward to an increase in household income, with 59 percent expecting increases in 2014 compared with 51 percent in 2013.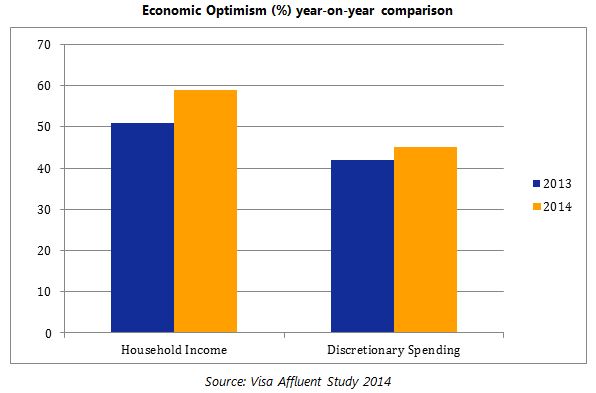 According to the Visa survey, almost half (45 percent) of affluent respondents from Singapore intend to increase discretionary spending in the next 12 months. Respondents are most likely to increase spending on family holiday (39 percent), followed by a night/evening out (33 percent) and fine dining (30 percent). On average, respondents are willing to spend $6,900 on a family holiday, $700 for a night/evening out and $500 for fine dining.
Besides holidays, the most likely overseas luxury purchase among respondents is designer handbags (45 percent), followed by designer watches (31 percent) and designer clothes (30 percent).
However, respondents who say they will increase discretionary spending in the next 12 months are least likely to spend more in the next 12 months on a bottle of wine and home entertainment system (13 percent each), followed by a bottle of alcoholic spirits and designer shoes (16 percent each).
For big ticket items, 51% intend to spend more on big ticket items such as cars, family holidays, designer watches and jewellery in the next 12 months. On average, the largest amount respondents are willing to spend on a car is 52% more than the maximum amount they spent on a car in the past one year. Respondents are willing to spend on average a maximum of $166,200 for a new car, $5,400 for a designer watch and $4,300 for jewellery, based on the survey results.
"Beyond spending, what affluent Singapore consumers are really looking for are unique experiences. Visa Premium cards offer access to a wide range of privileges and provide our cardholders with opportunities to enhance their experience. With customized packages and benefits covering travel deals and gourmet dining tailored to their needs, our affluent cardholders are assured of great experiences," said Ooi Huey Tyng.
To find out more about the Visa Premium Access program: www.visa-asia.com/premium.
1 The Visa Affluent Study 2014 was conducted between September 2013 and December 2013 by TNS Singapore on behalf of Visa. Demographics of the respondents were male and female credit card holders between the ages of 18-55 year olds and holders of at least one general purpose card (credit card) with monthly income sufficient to qualify for a platinum card. In each of the 11 markets, except for the UAE and New Zealand, At least 500 interviews were conducted online with representative quotas of gender, age and income. The study surveyed 5,169 affluent consumers in countries/regions including Australia, Mainland China, Hong Kong, India, Indonesia, Japan, New Zealand, Russia, South Korea, Singapore and the United Arab Emirates.
About Visa Affluent Survey
Visa defines the term 'affluent' as cardholders that earn more than $100,000 in annual income. Based on Visa research this figure provides an accurate and comprehensive overview of the segment. To provide products catered to this segment Visa introduced their premium cards which are Visa Signature, Infinite and Platinum. These cardholders are given access to premiums and perks in addition to the numerous promotions, points and other benefits that are available to all Visa cardholders.
About Visa
Visa is a global payments technology company that connects consumers, businesses, financial institutions, and governments in more than 200 countries and territories to fast, secure and reliable electronic payments. We operate one of the world's most advanced processing networks — VisaNet — that is capable of handling more than 47,000 transaction messages a second, with fraud protection for consumers and assured payment for merchants. Visa is not a bank and does not issue cards, extend credit or set rates and fees for consumers. Visa's innovations, however, enable its financial institution customers to offer consumers more choices: pay now with debit, ahead of time with prepaid or later with credit products. For more information, visit usa.visa.com/about-visa, visacorporate.tumblr.com and @VisaNews.