Visa Survey: Affluent Singapore men spend more than women
05/22/2014
Singapore - Defying age-old gender stereotypes, a recent Visa survey shows that affluent men in Singapore spend more on themselves than affluent women in Singapore.
The Visa Affluent Study 20141 (Study) shows Singapore-based affluent consumers' spending habits, including the finding that Singapore men are bigger spenders than women when it comes to personal expenses, as well as shopping online. On average, moneyed men spend S$1,601 a month on personal expenses compared with S$1,331 for women. When it comes to online shopping, the average spend is S$414 a month for men and S$374 for women, a difference of more than 10%.
Ooi Huey Tyng, Visa Country Manager for Singapore and Brunei, said: "The Study shows that old stereotypes don't hold true, and affluent men in Singapore are spending as much, or often more, than women. This has been a growing trend as shopping has become truly universal and new platforms such as online retail stores and mobile apps have increased opportunities for people to purchase goods and services."
The Visa Study also shows that affluent Singaporeans see a need to balance between material and non-material priorities. They consider time with family, having a work/life balance and staying healthy just as important as financial objectives like increased income, savings and planning for retirement.
Another finding in the Study is that half of affluent Singaporeans spend less than S$2,000 a month on discretionary household expenses.
For men and women together who save to spend on discretionary items, average monthly spending on personal expenses decreased by about 10% from S$ 1,639 in 2013 to S$ 1,472 in 2014. Online spending each month also decreased on average by 10%, from S$438 in 2013 to S$394 in 2014. However, online spending by women grew slightly from S$360 to S$ 374; a 4% year-on-year increase, while for men, it reduced from S$523 to S$414; a 21% year-on-year decrease.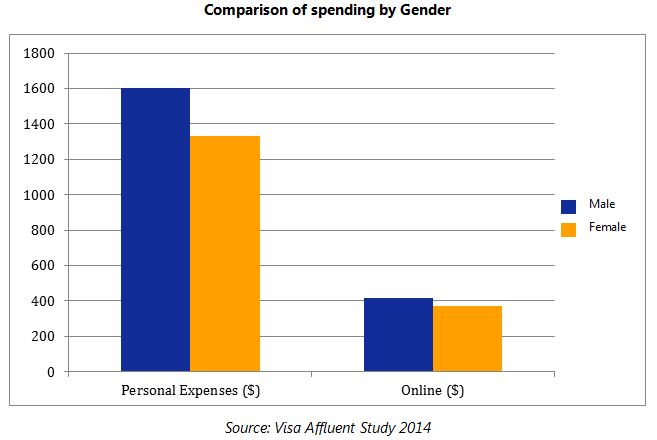 Nearly a fifth of overall spending by affluent Singapore consumers is on F&B, the third highest in the Asia Pacific region and comparable to Japan (#1) and Hong Kong (#2). Groceries, F&B, local transportation and utilities and bills account for more than half of total monthly expenditure.
"Visa recognises that spending is not a gender-specific activity, and luxury purchases and experiences are enjoyed by both men and women. Through the Visa Premium Access programme, Visa is able to bring the best privileges from around the world to Visa affluent cardholders in Singapore. Visa Premium cards offer both our Singapore male and female cardholders greater opportunities to experience the finer things in life," said Tyng.
To find out more about the Visa Premium Access program: www.visa-asia.com/premium
1 The Visa Affluent Study 2014 was conducted between September 2013 and December 2013 by TNS Singapore on behalf of Visa. Demographics of the respondents were male and female credit card holders between the ages of 18-55 year olds and holders of at least one general purpose card (credit card) with monthly income sufficient to qualify for a platinum card. In each of the 11 markets, except for the UAE and New Zealand, 500 or more interviews were conducted online with representative quotas of gender, age and income. The study surveyed 5,169 affluent consumers in countries/regions including Australia, Mainland China, Hong Kong, India, Indonesia, Japan, New Zealand, Russia, South Korea, Singapore and the United Arab Emirates.
About Visa Affluent Survey
Visa defines the term 'affluent' as cardholders that earn more than $100,000 in annual income. Based on Visa research this figure provides an accurate and comprehensive overview of the segment. To provide products catered to this segment Visa introduced their premium cards which are Visa Signature, Infinite and Platinum. These cardholders are given access to premiums and perks in addition to the numerous promotions, points and other benefits that are available to all Visa cardholders.
About Visa
Visa is a global payments technology company that connects consumers, businesses, financial institutions, and governments in more than 200 countries and territories to fast, secure and reliable electronic payments. We operate one of the world's most advanced processing networks — VisaNet — that is capable of handling more than 47,000 transaction messages a second, with fraud protection for consumers and assured payment for merchants. Visa is not a bank and does not issue cards, extend credit or set rates and fees for consumers. Visa's innovations, however, enable its financial institution customers to offer consumers more choices: pay now with debit, ahead of time with prepaid or later with credit products. For more information, visit usa.visa.com/about-visa, visacorporate.tumblr.com and @VisaNews.