Visa names Finaxar as Winner of Visa Everywhere Initiative 2019 in Singapore
03/20/2019
Visa, the world's leader in digital payments, announced Finaxar as the winner of the Visa Everywhere Initiative (VEI) 2019 during the Singapore finals. Finaxar, which solves working capital challenges of small and medium businesses through innovative credit and payment solutions, was chosen as the winner from a group of ten finalists who pitched their solutions to a panel of judges at Visa University.
Visa Everywhere Initiative is a global innovation programme that tasks start-ups to solve payments and commerce challenges of tomorrow, further enhance their own product propositions and provide visionary solutions for Visa's vast network of partners. Since 2015, the Visa Everywhere Initiative (VEI) has provided visionary solutions for commerce and payment challenges of tomorrow. The programme has activated regionally in 75 countries and awarded more than 70 leading startups with monetary prizes, mentorship and access to Visa's clients and partners.
The Singapore challenge focused on several themes such as transforming payment and commerce experiences for consumers using data analytics, building new consumer loyalty solutions, opening new merchant acceptance segments, providing financing solutions for merchants and businesses and helping consumers to use digital payments when they travel.
A total of 250 submissions were received from 146 startups for the Singapore VEI competition, a record number for any VEI programme in Asia Pacific.
"The payment landscape has evolved tremendously and it is important for us to work with innovative partners to create more seamless payment experiences for consumers, merchants, businesses and governments. We had a very impressive intake of submissions from our Singapore startup community, and our finalists showcased the breadth and depth of ideas that could contribute to new payment experiences. I would like to congratulate our Singapore VEI winner, Finaxar, and we look forward to working with these finalists to bring better commerce solutions for the country," said Kunal Chatterjee, Visa Country Manager for Singapore and Brunei.
"As part of the Visa Everywhere Initiative programme, we are also calling on women entrepreneurs to participate in the inaugural Visa Everywhere Initiative: Women's Edition. Female founders who are driving change in the community or launching their own startups will be eligible to participate in this competition and twelve finalists will be selected to pitch their ideas in Paris. We hope that more Singaporean women in the Fintech community or entrepreneurs looking at social impact will participate in this edition," added Kunal.
"We are thrilled to win the Visa Everywhere Initiative and work closely with Visa on extending Finaxar's solutions to solve SMEs' working capital challenges," Co-founder of Finaxar, Vihang Patel said. "Together with Visa, we can now streamline business payments and spends for SMEs and draw from Visa's vast network, experience and products in the Asia Pacific. Together, we will bring unique solutions to market to help all SMEs in the Asia Pacific."
Winner of the Visa Everywhere Initiative Singapore Finals 2019, Finaxar, is awarded the SGD25,000 prize at Visa University.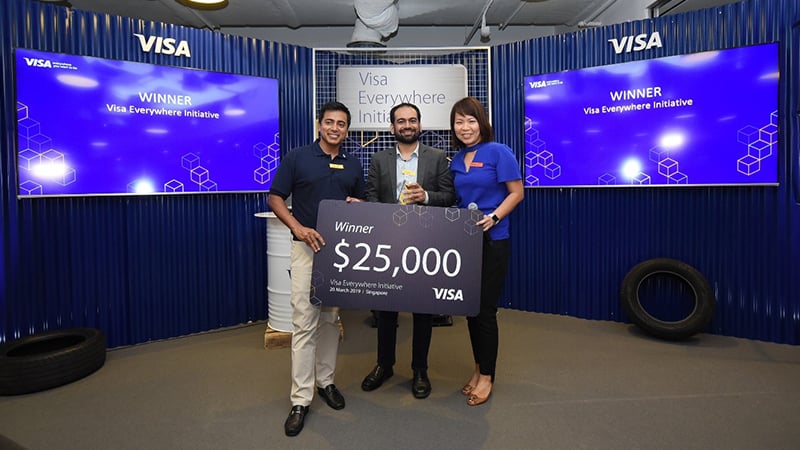 From left to right:
⦁ Kunal Chatterjee, Country Manager for Singapore and Brunei, Visa
⦁ Vihang Patel, Co-founder, Finaxar
⦁ Adeline Kim, Head of Products Southeast Asia, Visa
"It's an honour to win the Audience Award and great validation from the market," Founder of PolicyPal Val Ji-hsuan Yap, said. "Joining VEI helped us to understand how we can collaborate with Visa's ecosystem partners to deliver value to our insurance policy holders."
PolicyPal won the Audience Favourite Award.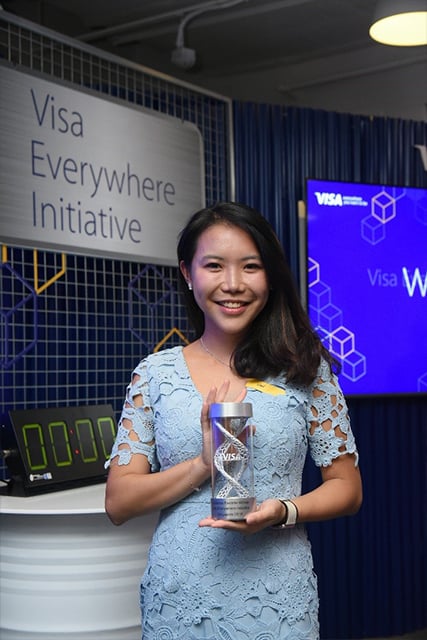 About Visa Inc.
Visa Inc. (NYSE: V) is the world's leader in digital payments. Our mission is to connect the world through the most innovative, reliable and secure payment network - enabling individuals, businesses and economies to thrive. Our advanced global processing network, VisaNet, provides secure and reliable payments around the world, and is capable of handling more than 65,000 transaction messages a second. The company's relentless focus on innovation is a catalyst for the rapid growth of connected commerce on any device, and a driving force behind the dream of a cashless future for everyone, everywhere. As the world moves from analog to digital, Visa is applying our brand, products, people, network and scale to reshape the future of commerce. For more information, visit www.visa.com.sg