Visa launches first mobile concierge app targeted at affluent consumers in Singapore
09/21/2017
Nine in 10 Singapore affluent consumers are interested to access concierge services via a mobile app
Visa today announced the launch of Singapore's first concierge mobile app that enables Visa affluent cardholders to access a host of concierge services on their mobile phone. Downloadable on iOS App Store and Google Android Store, Singapore is the first market in Southeast Asia where this mobile app is made available.
Traditionally, cardholders need to dial a hotline or email a concierge service provider to engage their services. The new Visa concierge mobile app offers a real-time channel for affluent consumers to arrange for services such as hotel, flight and restaurant reservations, event ticket purchases or other enquiries. A live-chat function is also available on the app, enabling users to chat with a customer service representative directly to make personalised and bespoke requests.
Research conducted by Visa highlighted that a third (32 per cent) of affluent consumers in Singapore use concierge services at least once a month. Use of concierge services is most prevalent amongst millennial affluent cardholders, with almost four in five (78 per cent) of Singapore affluent millennials having used concierge services. Top service categories include restaurant reservations (57 per cent), travel planning (52 per cent), and shopping (41 per cent).1
"Singaporeans are becoming increasingly digital, and this is even more so for the affluent segment, where three in four cardholders are digitally active using mobile apps and wallets. The introduction of on-demand services, where Singaporeans are able to order and purchase a product or service on the go, are used to a high level of speed and efficiency. At Visa, we see the need to provide our affluent cardholders the same level of efficiency when it comes to concierge requests. Singapore currently leads the Southeast Asia region in terms of the highest number of concierge requests. With the Visa concierge app, they will appreciate the convenience of accessing a multitude of services via their mobile, without having to dial into a hotline or send an email," said Ms. Ooi Huey Tyng (Tyng), Visa Country Manager for Singapore and Brunei.
In the past year, 71 per cent of all concierge requests made by Visa affluent cardholders in Southeast Asia were from Singapore. This is followed by Malaysia (20 per cent) and The Philippines (4.5 per cent).2
"As Singapore moves towards a Smart Nation, Singaporeans are encouraged to go digital. The Visa Concierge app is aligned with both the demand from our mobile-first consumers and the Singapore Government's Smart Nation initiatives," Tyng added.
Consumers appreciate convenience and speed
When asked about the top concerns faced when making concierge requests via hotline and email, more than half (56 per cent) of respondents say it is troublesome to wait for the customer service representatives to respond to their requests.. This is followed by having to verify their identity and card number for each request made (46 per cent) and miscommunication with a customer service representative (45 per cent).3
Ninety-two per cent of respondents are receptive to trying concierge services via a mobile app. Top perceived benefits include the ability to make concierge requests immediately (79 per cent) and the ability to track all past and present records on the mobile app (65 per cent).4
Screenshots of Visa concierge app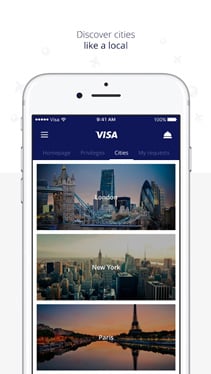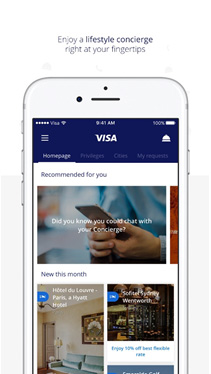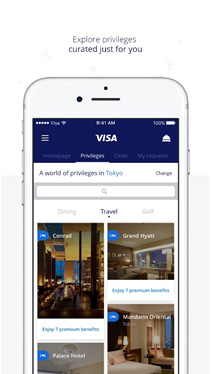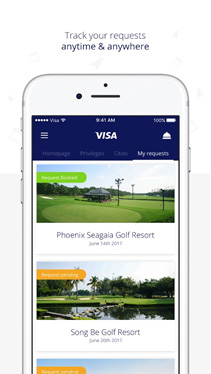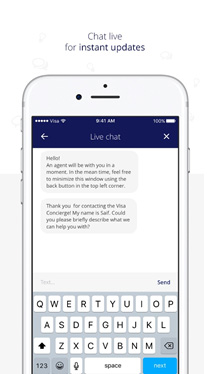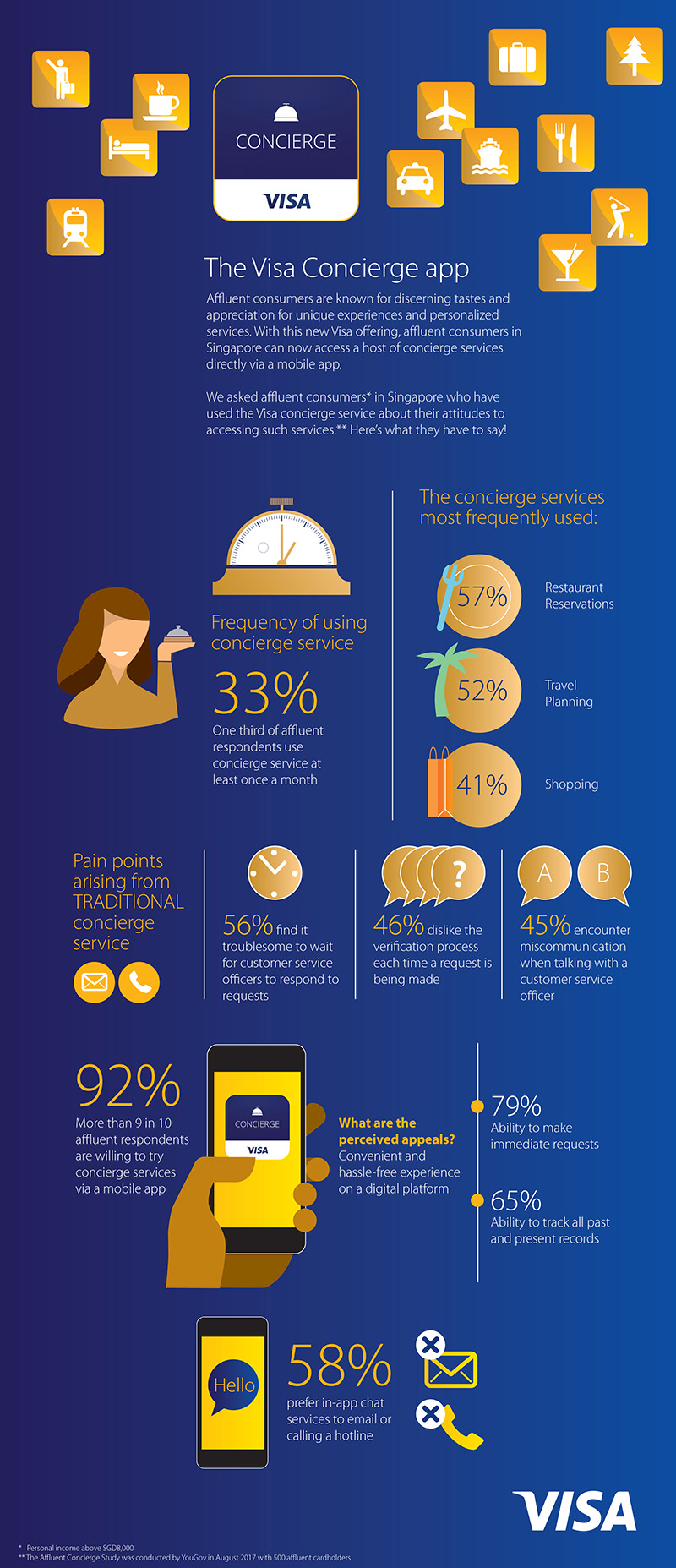 1 Affluent Concierge Study, 2017. The survey was conducted by YouGov on behalf of Visa. 512 respondents aged 18 to 60 with monthly personal income of S$8,000 and more from Singapore participated in the online survey conducted in August 2017 to understand perceptions and attitudes towards concierge services.
2 Visa Concierge report as of July 2017
3 Affluent Concierge Study, 2017
4 Affluent Concierge Study, 2017
About Visa
Visa Inc. (NYSE: V) is the world's leader in digital payments. Our mission is to connect the world through the most innovative, reliable and secure payment network - enabling individuals, businesses and economies to thrive. Our advanced global processing network, VisaNet, provides secure and reliable payments around the world, and is capable of handling more than 65,000 transaction messages a second. The company's relentless focus on innovation is a catalyst for the rapid growth of connected commerce on any device, and a driving force behind the dream of a cashless future for everyone, everywhere. As the world moves from analog to digital, Visa is applying our brand, products, people, network and scale to reshape the future of commerce. For more information, visit www.visa.com.sg