Visa is the Preferred Cashless Payment Method for GrabTaxi in Singapore
08/06/2015

Singapore - Paying for taxi fares has become easier, faster and more convenient with Visa cards now accepted for payment on GrabTaxi rides. Visa cardholders can enjoy the convenience of reliable cashless payments without the worry of having to provide exact change or small bills for payment.
Ooi Huey Tyng, Visa Country Manager for Singapore and Brunei, said, "Technology has transformed the end-to-end customer experience when consumers commute and provides increased convenience since payment is embedded in the taxi mobile app. This seamless customer experience has attracted more consumers to use this mode of payment and we see strong double digit growth month-on-month for the number of cashless transactions since the introduction of taxi apps."
With the largest third party network of passengers and drivers in Singapore, GrabTaxi now offers taxi passengers an additional way to pay for taxi rides through cashless means by registering their credit card in the app and selecting the "Card" option when paying.
The collaboration will offer Visa cardholders who pay for a minimum of two full-fare (not applicable with other ongoing promotions) rides, from today until 5th September 2015, in one week, will be entitled to receive a S$5 promotional code for use the following week.
Jerry Lim, Deputy Managing Director for GrabTaxi Singapore said, "Singapore was the first market in Southeast Asia in which we launched our cashless payment option, GrabPay. Almost everyone in Singapore uses a payment card and can experience the convenience of going cashless when paying for their taxi ride. Already the majority of our taxi rides paid through cards use Visa cards."
Since the launch of GrabPay, the cashless payment option has been showing significant growth with consumers in Singapore. Transactions have been increasing multifolds on a month-to-month basis since the option was introduced six months ago. Currently 65 percent of those cashless payments are through Visa cards.
How to pay with Visa cards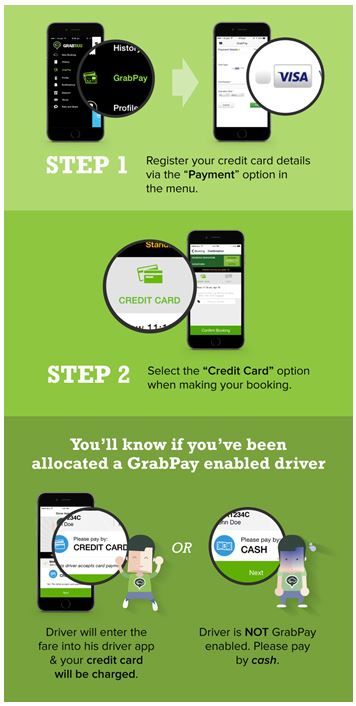 For more information on the promotion please visit http://grabtaxi.com/singapore/grabvisa/
About Visa
Visa is a global payments technology company that connects consumers, businesses, financial institutions, and governments in more than 200 countries and territories to fast, secure and reliable electronic payments. We operate one of the world's most advanced processing networks — VisaNet — that is capable of handling more than 47,000 transaction messages a second, with fraud protection for consumers and assured payment for merchants. Visa is not a bank and does not issue cards, extend credit or set rates and fees for consumers. Visa's innovations, however, enable its financial institution customers to offer consumers more choices: pay now with debit, ahead of time with prepaid or later with credit products. For more information, visit https://usa.visa.com/, visacorporate.tumblr.com and @VisaNews.
About GrabTaxi
Founded in July 2011, GrabTaxi mission is to revolutionize the taxi industry in Southeast Asia. The app that won second in Harvard Business School Plan Contest 2011 presents a taxi dispatch service equipped with GPS, allowing the passengers to easily get a taxi, car or motorcycle taxi ("ojek"). Since the app was launched in 2012, tens of thousands of taxi drivers have been using smart phones equipped with GrabTaxi sophistication to accept booking taxis in Malaysia, the Philippines, Vietnam, Thailand, Indonesia and Singapore. The GrabTaxi app has been downloaded for more than 5.5 million times, has an average of 10 bookings in every second, and has become the market leader in Southeast Asia. This application can be downloaded on smart phones and tablets with iOS: http://bit.ly/grabtaxi-iOS Android: http://bit.ly/grabtaxi-Android, and Blackberry: http://bit.ly/grabtaxi-blackberry. For more information please visit: http://www.grabtaxi.com.