Visa Everywhere Initiative 2019 Launches in Singapore
11/14/2018
In addition to the Singapore launch, startups from five countries competed for the title of Visa Everywhere Initiative 2018 Asia Pacific Regional Winner
Visa, the world's leader in digital payments, announced the launch of Visa Everywhere Initiative ('VEI') in Singapore today. Startups can submit their ideas targeted at solving problems for the commerce industry in Singapore and across Southeast Asia.
The themes for the Singapore challenge include: transforming payment and commerce experiences for consumers using data analytics or building new consumer loyalty solutions; opening new merchant acceptance segments or providing financing solutions for merchants and businesses and helping consumers use digital payments when they travel.
Visa Everywhere Initiative is a global innovation program that invites the startup community to solve real commerce challenges of tomorrow using their own product propositions. Since the program started in 2015, it has expanded to over 80 countries, with participation from more than 3,950 startups to date. Collectively, the startups have raised over two and a half billion dollars in funding.
The Singapore program was launched during the Visa Everywhere Initiative 2018 Asia Pacific Regional Finals, which was held at the Visa Innovation Centre in Singapore. Finalists included:
Pickcio from Japan, which specialises in secure blockchain-based exchange for personal data
Vietnamese startup EyeO Tech which provides camera intelligence
Australian open commerce platform startup Raincheck
Thai Intelligent Banking solution provider Silot
Chinese startup Strikingly, which uses gamification as a marketing tool to engage millennials
"The startup community in Asia Pacific is full of great ideas for new commerce experiences, and Visa Everywhere Initiative is one of the ways we connect those startups with other players in the payments industry," said Chris Clark, regional president, Asia Pacific, Visa. "We want to support startups in our region that are transforming digital payments and help them grow their business. We are excited to introduce the Visa Everywhere Initiative 2019 Singapore program and hold our first Asia Pacific regional finals during Singapore Fintech Festival."
Silot, an Intelligent Banking solution provider, brought home the trophy of 2018 Overall Winner. Besides winning the title, Silot also won a spot-on Visa Everywhere Initiative global accelerator program. It is a 10-week immersive program designed for startups to advance from 1.0 to enterprise level by receiving access to Visa's payments infrastructure, integration with Visa's APIs and mentorship from Visa senior leaders.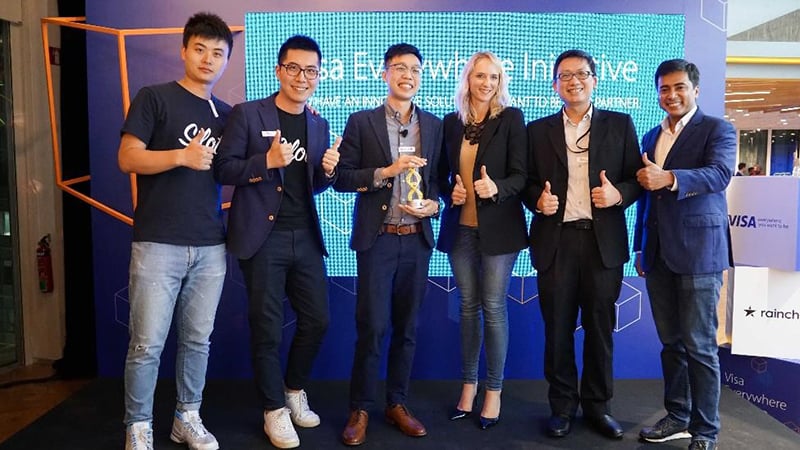 Silot is awarded VEI 2018 Overall Winner, and the winner also won a spot-on Visa Everywhere Initiative global accelerator program for 10 weeks.
From the left:
Bryan Sun, Co-Founder & CTO at Silot
Villence Yu, Co-Founder & COO at Silot
Brandon Tam, Product Manager at Silot
Mandy Lamb, Group Country Manager, Regional Southeast Asia & Global Client Management at Visa
Benny Chey, Executive Director and Head of Payment Fintech Office at Monetary Authority of Singapore
Kunal Chatterjee, Country Manager, Singapore and Brunei at Visa
About Visa
Visa Inc. (NYSE: V) is the world's leader in digital payments. Our mission is to connect the world through the most innovative, reliable and secure payment network - enabling individuals, businesses and economies to thrive. Our advanced global processing network, VisaNet, provides secure and reliable payments around the world, and is capable of handling more than 65,000 transaction messages a second. The company's relentless focus on innovation is a catalyst for the rapid growth of connected commerce on any device, and a driving force behind the dream of a cashless future for everyone, everywhere. As the world moves from analogue to digital, Visa is applying our brand, products, people, network and scale to reshape the future of commerce. For more information, visit www.visa.com.sg
About Visa Everywhere Initiative
Visa Everywhere Initiative is a global innovation program that tasks start-ups to solve payments and commerce challenges of tomorrow, further enhance their own product propositions and provide visionary solutions for Visa's vast network of partners. The program first launched in the U.S. in 2015 and quickly expanded into a global program with more than 3,950 participating start-ups, which have collectively raised over $2 billion in funding, with 215 finalists and 65 winners selected. The program activates in North America, Latin America, Europe, Asia, Middle East and Africa, and has touched over 80 countries throughout the program's history.