Singaporeans hit 2 million Visa payWave transaction milestone
08/25/2014
Visa Survey: Singaporeans vote with their wallets as 60% prefer to shop at stores that offer contactless payments
Singapore - Singapore continues to standout as the payments innovation leader in Southeast Asia with the number of contactless Visa payWave transactions exceeding two million for the month of July 2014, representing more than one in five (21.5%) of all Visa face-to-face transactions1.
Ooi Huey Tyng, Visa Country Manager for Singapore and Brunei, said: "That one in five Visa transactions in Singapore are now being conducted on contactless shows consumers are making real strides towards creating a cashless society. The convenience and speed of Visa payWave has improved the shopping experience for consumers and retailers alike and I'm confident this trend will continue to grow."
Visa payWave also represents 38.5% of all Visa face-to-face transactions in Singapore of SGD$30 or below2, which is a further indication that contactless transactions are a popular choice for low value, everyday purchases.
This milestone is supported by findings from the Visa Consumer Payment Attitudes Study 20143 ("Survey"), which show that almost seven in ten respondents across Southeast Asia would choose to shop at stores that offer contactless payment options over those that don't.
The survey, which tracked attitudes to spending among Visa cardholders, revealed 78% of respondents in the Philippines prefer to shop at a store that offers contactless payments, closely followed by Malaysia (68%), Thailand (66%), and Singapore (60%).
Singapore leads the region in awareness of contactless payments at 87%, followed by Malaysia (72%), the Philippines (62%), and Thailand (61%).
"Contactless payments are being accepted at more merchant locations than ever before in Singapore and across Southeast Asia. In Singapore, contactless payments and 'going cashless' are becoming a part of everyday life, as more consumers and retailers realize that contactless brings greater convenience and speedier checkouts for busy people on the go," added Ooi.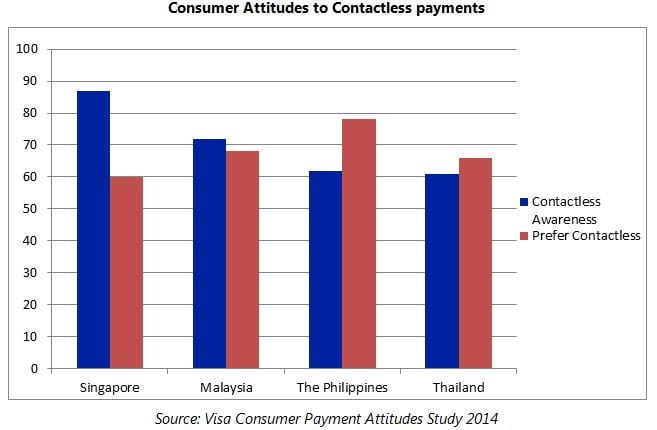 While Singapore leads Southeast Asia in contactless payments adoption, neighboring countries are also experiencing significant growth. Thailand is leading the way with 68% monthly Visa payWave transaction growth, followed by the Philippines (26%) and Malaysia (21%)4.
In Singapore, contactless payments usage remains the highest with 55% of survey respondents having used the technology, while in other markets, the majority of respondents are interested in using contactless payments. In the Philippines, 62% of respondents would like to use contactless payments followed by 58% in Malaysia and 55% in Thailand.
The two top reasons cited for using contactless payments are faster transactions (47%) and the ability to go cashless (29%). In the Philippines (58%) and Singapore (49%), consumers specifically cited faster transactions as the biggest benefit to contactless payments.
"We're working with our client banks on the future of contactless payments, to bring the same convenient experience our consumers know and love using their physical cards, into new form factors such as payment stickers, wearable technology and mobile technology, providing even greater choice in the ways they can pay," added Ooi.
1 VisaNet clearing and settlement data (July 2014)
2 VisaNet clearing and settlement data (March 2014)
3 The Visa Consumer Payment Attitudes Study 2014 was conducted in July 2014 by BlackBox Research on behalf of Visa. Demographics of the respondents were male and female credit card holders above the ages of 18 year olds and holders of at least one general purpose card (credit card). There were 500 respondents in each of the four markets and interviews were conducted online with representative quotas of gender and age. The study surveyed 2000 consumers in Singapore, Malaysia, The Philippines and Thailand.
4 VisaNet clearing and settlement data (July 2014)
About Visa
Visa is a global payments technology company that connects consumers, businesses, financial institutions, and governments in more than 200 countries and territories to fast, secure and reliable electronic payments. We operate one of the world's most advanced processing networks — VisaNet — that is capable of handling more than 47,000 transaction messages a second, with fraud protection for consumers and assured payment for merchants. Visa is not a bank and does not issue cards, extend credit or set rates and fees for consumers. Visa's innovations, however, enable its financial institution customers to offer consumers more choices: pay now with debit, ahead of time with prepaid or later with credit products. For more information, visit usa.visa.com/about-visa, visacorporate.tumblr.com and @VisaNews.