Revolut Singapore launches Junior accounts for children aged 7 - 17
02/15/2021
• Customers of Revolut Singapore can now set up Junior accounts for their children, aged 7 - 17. Standard customers can set up 1 Junior account for free, while Premium and Metal customers have up to 2 and 5 Junior accounts respectively
• Designed to promote financial literacy and good money management habits among young people, a Junior account can be used with a contactless debit card and a specially designed app
• Junior accounts are managed by parents or a legal guardian from their own Revolut app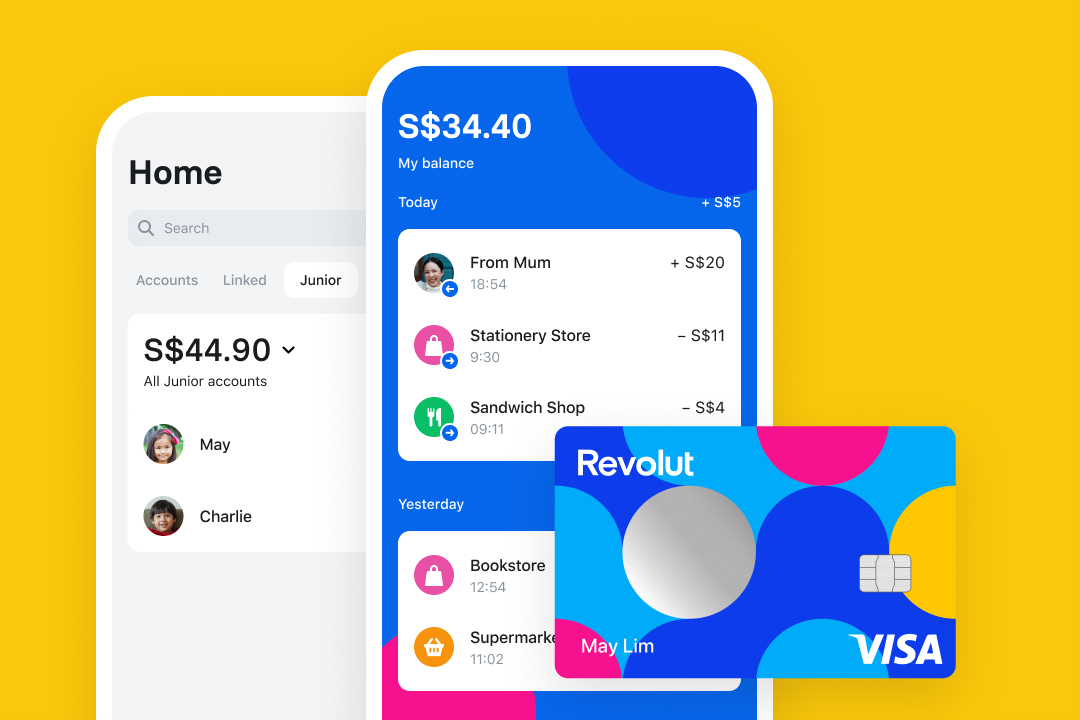 UK fintech superapp Revolut launches Revolut Junior (also called "Junior") to customers in Singapore today. This feature will allow parents to create a Junior account for their children using their personal Revolut app.
Revolut Junior is an account, card and app that parents can control from their own app. Since Junior was launched in the US, UK, Australia, and wider Europe last year, approximately 10,000 Junior accounts are being created each week. To date, over 320,000 Junior accounts have been set up in over 30 markets.
Track spending and freeze account if needed
Parents can send money to their child's Junior account and get instant spending alerts for their online and physical in-store payments. They can also freeze and unfreeze their kid's card to secure their account in the event of card loss.
A child can download the Revolut Junior app to their phone so they can use Revolut's famous money tools, which have been adapted especially for them to make learning fun. Parents can participate in their child's financial literacy journey by showing them how the app helps them work towards a saving goal and how budgeting works.
Pam Chuang, Head of Growth, Revolut Singapore:
"In Singapore, 7 is the average age a child starts to get pocket money. This is the perfect time for parents to start teaching them how to manage their money. In Revolut Junior, parents will find the perfect platform to talk about topics such as goal-setting, budgeting, and responsible spending."
Kunal Chatterjee, Visa Country Manager for Singapore & Brunei:
"Digital technology usage is prevalent amongst young children and teens who are extremely technology savvy. At Visa, we believe the importance in educating youths on money management skills and digital payments usage starting from a young age and parental guidance is crucial. That is why we are extremely excited to partner with Revolut to launch the Revolut Junior account, which enables parents to transfer money to their children's accounts seamlessly whilst having visibility of how they are spending online, and in stores. Being equipped with financial literacy skills will empower children and teenagers to manage their finances better when they enter the workforce in future and learn how to use digital payments wisely,"
A taste of independence with peace of mind
For tweens and teenagers, the Junior contactless payment debit card will lend a sense of independence while giving parents peace of mind. This is also a great opportunity to teach them how to manage their finances in an increasingly cashless society.

It is free to create a Junior account. Standard customers can create 1 Junior account, Premium customers, 2, and Metal customers, 5. Premium and Metal customers will enjoy additional features such as Co-Parent - where 2 adults can send money to and help manage the Junior account, Tasks - where parents can reward their children for completing chores, Weekly Allowance - where pocket money is automatically added to the Junior account, and Goals - where children can save up their spare change to help with a future purchase or target.

Revolut Junior is slated for launch on 15 February 2021. Images can be downloaded from: http://bit.ly/revjunior

Note to Editor: Invitation to trial Revolut Junior
If you are interested in reviewing Revolut Junior for a story, please let me know and a complimentary 12-month upgrade to Premium will be given to you or your appointed reviewer.
Junior: Frequently Asked Questions
1. Junior at a glance:
- Available for kids aged 7 - 17
- Can only be set up by a parent or legal guardian ("Admin") with Revolut account
- Funded by a parent or guardian and/or a co-parent ("Co-Parent") from their main Revolut accounts
- Parent or guardian can control Junior account holder's security features
- Instant notification to parent or guardian's phone when Junior card is used
- Great way for young people to develop essential money knowledge
- Card details printed on the back of the card, to reduce risk if card is shown on social media
2. How do I set up a Junior account?
- Open your Revolut app and tap on "Junior"
- Fill out the information for the child or teen who will be using the account
- Order a Junior card for them
- Add money to their Junior card from your account
3. Is it necessary to download the Revolut Junior app into my child's phone?
Using the Revolut Junior app is optional; the card will still work even if your child does not have a mobile phone or the app. If your child would like to download the Revolut Junior app to their phone, they can scan a QR code displayed on your phone.
4. How much control does a parent or guardian have?
A parent or guardian will have the tools to assist them to control the child's or teen's use of their Junior account, such as adding or removing money, and freezing or unfreezing the account. As a safety measure, only the "Admin" and "Co-Parent" can send money to the child, other adults will not be able to fund your child's Junior account.
5. What are the limits placed on the Revolut Junior account and card?
- Only S$4,000 can be sent to a Revolut Junior account in any one year and only S$1,000 can be held in it at any one time.
- Only S$500 can be spent on a Revolut Junior card, and only 15 transactions can be made, per day.
- The child will not be able to use their Junior debit card at an ATM.
More FAQs can be found at https://www.revolut.com/en-SG/legal/revolut-junior
ABOUT REVOLUT
Revolut gives our customers the power to spend, transfer, and control their money without the sky-high fees charged by big banks. Since our launch in 2015, Revolut has expanded significantly beyond our origins as an FX product, adding new features such as Gifting, Rewards, Bill Splitting, Group Vaults and Donations. Our ambition is to be the world's first financial super-app.
Revolut does not charge a fee when customers exchange currencies in-app during London FX trading hours. We now have over 13 million customers and have processed more than 1bn transactions worth over US$100bn.
ABOUT VISA INC.
Visa Inc. (NYSE: V) is the world's leader in digital payments. Our mission is to connect the world through the most innovative, reliable and secure payment network - enabling individuals, businesses and economies to thrive. Our advanced global processing network, VisaNet, provides secure and reliable payments around the world, and is capable of handling more than 65,000 transaction messages a second. The company's relentless focus on innovation is a catalyst for the rapid growth of connected commerce on any device, and a driving force behind the dream of a cashless future for everyone, everywhere. As the world moves from analog to digital, Visa is applying our brand, products, people, network and scale to reshape the future of commerce.