Cashless taxi rides on the rise, with Visa as the preferred card
03/25/2015
Easy Taxi and Visa extend joint campaign, allowing passengers to enjoy discounts until 31 March
Singapore - Easy Taxi, the world's largest taxi booking app, has announced Visa as the card of choice in Easy Taxi Pay transactions. Based on taxi usage data, Visa now accounts for majority of cashless payments, driving Easy Taxi Pay taxi bookings up.
"Visa has been the card of choice among our passengers in Singapore, accounting for close to 70 per cent of cashless transactions when we introduced the campaign on 22nd of December," said Jianggan Li, Regional Managing Director of Easy Taxi. "Since then, the share of Visa transactions has grown to 95 per cent," he added.
Mr. Li also mentioned that among the 30 countries Easy Taxi operates in, Singapore has seen the second highest daily number of cashless transactions, just behind Brazil, where Easy Taxi is operational in almost 100 cities.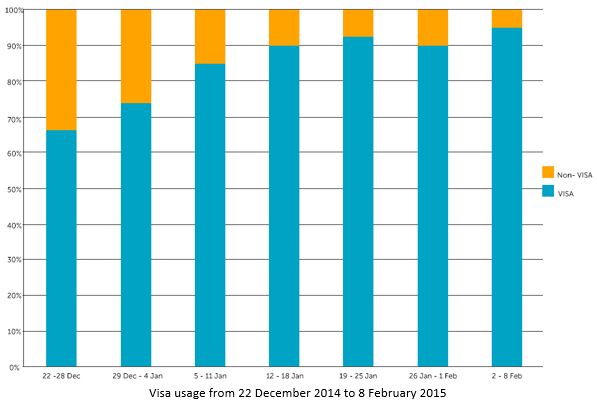 According to Ooi Huey Tyng, Visa Country Manager for Singapore and Brunei, "Consumers in Singapore have a strong preference to pay with their cards when taking taxis. We are pleased to know that Visa is the card of choice among the Easy Taxi users and our collaboration with Easy Taxi has proven to be very successful among the taxi riding population. Today, cash is still the dominant mode of payment for taxis but with the rollout of taxi apps, we start to see an increase in consumers making payment on their cards without any barriers. According to VisaNet data, we are seeing an increase in both the value and number of Visa transactions being made in taxis, growing at almost 300 percent and 350 percent respectively over the past six months."
The unprecedented growth in Visa card usage under Easy Taxi Pay – Easy Taxi's in-app payment solution, has convinced both companies to extend the exclusive deal, in order to solidify the results. The on-going promotion, slated to end last 21 February, is part of a broader partnership between the two companies.
In line with this, Visa cardholders will continue to enjoy $3 off on their rides via Easy Taxi Pay until 31 March 20151. They are also exempt from any surcharges or additional fees when using their cards to pay for their Easy Taxi rides.
According to Mr Li, Easy Taxi Pay demand has been on an upward trend since the partnership was announced. While demand dropped slightly between Christmas and New Year – when most people were traveling, this peaked again following the holidays. "The first week of February was the highest demand we've seen for Easy Taxi Pay rides, and we expect demand to continue to grow with the extension of the promo."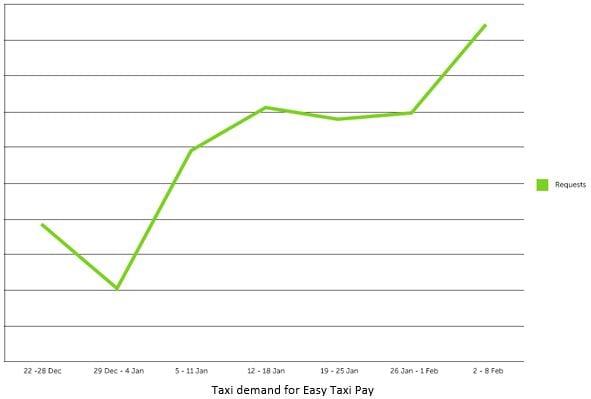 Apart from the promotion, the partnership will also see both companies launching new campaigns and initiatives throughout the year.
About Visa
Visa is a global payments technology company that connects consumers, businesses, financial institutions, and governments in more than 200 countries and territories to fast, secure and electronic payments. We operate one of the world's most advanced processing networks – VisaNet – that is capable of handling more than 47,000 transaction messages a second, with fraud protection for consumers and assured payment for merchants. Visa is not a bank and does not issue cards, extend credit or set rates and fees for consumers. Visa's innovations, however, enable its financial institution customers to offer consumers more choices: pay now with debit, ahead of time with prepaid or later with credit products. For more information, visit https://usa.visa.com/, visacorporate.tumblr.com and @VisaNews.
About Easy Taxi
Easy Taxi is the world's biggest taxi solution for consumers and businesses, currently available in more than 30 countries across four continents. Founded in Brazil in 2011, the company continues to redefine the taxi booking industry with innovative products such as Easy Taxi Corporate and Easy Taxi Pay. To date, it has a global network of over 400,000 taxi drivers and a growing passenger base of 17 million. The app is available on iOS, Android, Windows Phone and Blackberry devices; and on all major platforms including Firefox OS.