Buy Now Pay Later, Crypto among new payment options Singapore SMBs plan to offer: Visa study
02/08/2022
Ninety-four percent of small and micro businesses (SMBs) in Singapore will accept some form of digital payments in 2022, compared to 82 percent globally, according to the Visa Back to Business Study, with nearly three-quarters (72%) expecting their business to become fully cashless within the next two years. The sixth edition of Visa's global study reveals how Singapore SMBs look to digital payments for future growth as consumers and businesses continue to adapt to a hyper-digitalised world.
"Even as the world grapples with uncertainties brought about by the pandemic, one thing I'm certain of is that digital payments have enabled many businesses to thrive, especially in Singapore. Eighty-nine percent of Singapore SMBs agree that accepting new forms of payment is fundamental to business growth, compared to less than three-quarters (73%) globally," said Kunal Chatterjee, Country Manager, Singapore & Brunei, Visa.
Small businesses in Singapore have demonstrated remarkable digital confidence in adapting to digital payments, with many planning to accept new methods in 2022 such as e-wallet apps (59%), mobile contactless payments (58%) and contactless cards (43%). One-third also plan to accept payments via Buy Now Pay Later (BNPL) solutions (35%, compared to 21% globally) and digital currency (33%, compared to 24% globally).
This shift by SMBs mirrors the increased use of digital payments among Singaporeans. Nearly three in five Singaporeans (57%) expect to use digital payments more often in 2022, compared to less than half globally (46%). Younger generations are driving this shift — Millennials (66%) and Gen Z (47%) are more likely than Boomers (41%) to increase their usage of digital payments.
With the increasing stickiness of digital payments, failure to offer the option has become a dealbreaker for many. Nearly two in five Singaporeans (38%) chose to walk out of a store empty handed because they were unable to pay for their purchases digitally. Millennials (49%) and Gen Z (48%) are more likely to do the same compared to Boomers (18%).
Given Singapore's fast-paced lifestyle, it's also not surprising that Singaporeans are increasingly paying attention to the speed, security and convenience of the payment experience. Top digital payment methods that Singaporeans expect to be accepted at brick-and-mortar retail stores include contactless cards (80%), mobile contactless payments (55%), and e-wallet apps (47%).
"Besides digitalising their storefront, a key area of growth for small businesses is eCommerce, which has allowed many to go from a local hero to a global player even when borders were closed. More than one-third of Singapore SMBs (35%) recognise cross-border sales as one of the best opportunities to reach new customers, the highest proportion of all markets surveyed globally," added Chatterjee.
Currently, only one in five Singapore SMBs (20%) are selling products and services internationally, but two-thirds (66%) have plans to do so, either in the next year or in the long-term. This compares to only two in five (44%) globally. Nearly three in four Singapore SMBs (74%) expect to sell across borders more in 2022, compared to only half (50%) globally.
The majority of Singapore SMBs with an online presence (94%, compared to 90% globally) cite increased efforts to sell online as key to their survival during the pandemic. For Singapore SMBs that have shifted online, nearly three-fifths of their revenue (59%) came from online channels in the last three months.
Since the start of the pandemic, Visa has launched a variety of community-based programs to help more small businesses accept digital payments and gain greater access to the digital economy. To date, Visa has helped to digitally-enable 24.8 million SMBs worldwide, or 50% of the multi-year goal it set in 2020 to digitalise 50 million SMBs. In Singapore, Visa continues to support SMBs through its Where You Shop Matters initiative and other resources available on its Small Business Hub.

Click the image below to read the infographic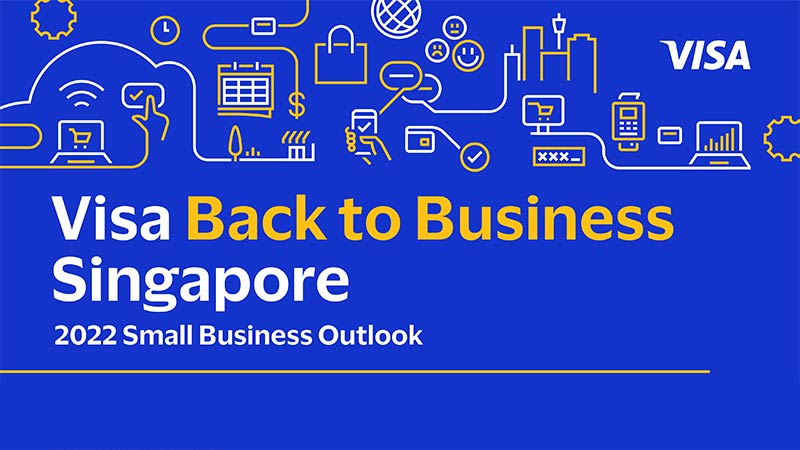 Methodology: Visa Back to Business Study
The Visa Back to Business Study was conducted by Wakefield Research in December 2021 and surveyed 2,250 small business owners with 100 employees or fewer in Brazil, Canada, Germany, Hong Kong, Ireland, Russia, Singapore, United Arab Emirates and United States. The consumer section surveyed 1,000 adults ages 18+ in the United States, and 500 adults ages 18+ in Brazil, Canada, Germany, Hong Kong, Ireland, Russia, Singapore and United Arab Emirates.
About Visa Inc.
Visa (NYSE: V) is a world leader in digital payments, facilitating more than 215 billion payments transactions between consumers, merchants, financial institutions and government entities across more than 200 countries and territories each year. Our mission is to connect the world through the most innovative, convenient, reliable and secure payments network, enabling individuals, businesses and economies to thrive. We believe that economies that include everyone everywhere, uplift everyone everywhere and see access as foundational to the future of money movement. Learn more at Visa.com.