40 percent of Singapore SMEs have no access to bank loan financing: Visa & Deloitte Study
10/23/2015
Study shows that SMEs face challenges around cash flow, delayed payments, labour and competition
Singapore - Singapore's Small and Medium Enterprises (SMEs) face an uphill struggle when it comes to securing financing and receiving payments on time, according to results from the Visa and Deloitte Digital SME Banking Study ("Study")1.
SMEs account for 47 per cent of Singapore's Gross Domestic Product (GDP) and more than 80 per cent of these companies have significant turnover in excess of SGD 1 million. Yet, only 60 per cent of the SMEs use bank loans for financing while 41 per cent are unserved by financial institutions. A further 8 per cent are underserved2.
The Study focuses on SMEs across several economies in the Association of Southeast Asian Nations (ASEAN) region and the financing, banking and payment issues that they face. The markets included in the study are Singapore, Malaysia, Thailand, Indonesia and The Philippines.
Through the study3, it showed that SMEs faced various financing challenges around cash flow and delayed payments. 72 per cent of SMEs in Singapore require funds to better manage their working capital and mitigate cash flow problems, up from 62 per cent in 2011. 37 per cent of the SMEs in Singapore had overdue payments over 30 days late, and this is higher than Asia Pacific, America and Europe SMEs (30 per cent; 32 per cent and 31 per cent respectively). The top reason for delayed payments were largely due to insufficient availability of funds (48 per cent).
Ms. Ooi Huey Tyng, Visa Country Manager for Singapore and Brunei, said, "SMEs form the backbone of Singapore's economy in terms of GDP contributions and they are also a major source of employment. It is crucial that SMEs have access to modern financing solutions to run business operations in the most productive manner. Our findings show that many SMEs struggle with the disbursement and receipt of payments, and do not utilize electronic solutions. This creates cash flow issues and hampers the potential of SMEs to operate their businesses more efficiently."
In addition to facing financing challenges, the Study also showed that SMEs faced non-financing challenges such as labour and competition. Manpower issues are the top concerns for SMEs, with nearly half of the respondents citing difficulty in hiring staff and high manpower costs4. The third concern SMEs have is increasing competition and 51 per cent of them intend to relook at their business models.
The study also analysed the financial needs of these SMEs and highlighted that poor visibility of SME transactions and low risk appetite of banks limit the amount of lending for SMEs, hence, leading to inadequate cash flow faced by many SMEs.
"As key contributors to their countries' economies, SMEs should be a priority market for stakeholders such as the government, regulators, financial institutions and non-bank financial institutions. Difficulties with access to financial facilities and export markets hinder SME development in the region," said Mohit Mehrotra, Strategy Consulting Leader, Deloitte Southeast Asia.
"SMEs need adequate cash flow for investment, and continual improvement of operational efficiency and productivity. Without adequate financing, SMEs will not be able to build competitiveness and resilience, innovate and be sustainable in today's competitive climate," he highlighted.
"At Visa, we believe that some of these needs can be addressed so that the SMEs can be better served. For example, there are opportunities for SMEs to adopt innovative electronic payment solutions to bridge the gap in cash flow receivables and payments. Visa Commercial offers a wide range of credit access and payment tracking solutions to help alleviate problems associated with cash flow. SMEs can consider using electronic platforms for procurement and payment which helps to improve cash flow. Once there is better cash flow visibility, banks will be able to approve loan applications since lack of collateral was cited as the key reason behind rejected loan applications," Tyng added.
For more information on Visa Commercial, please visit:
http://www.visa.com.sg/business/smallbusiness/visabusiness.shtml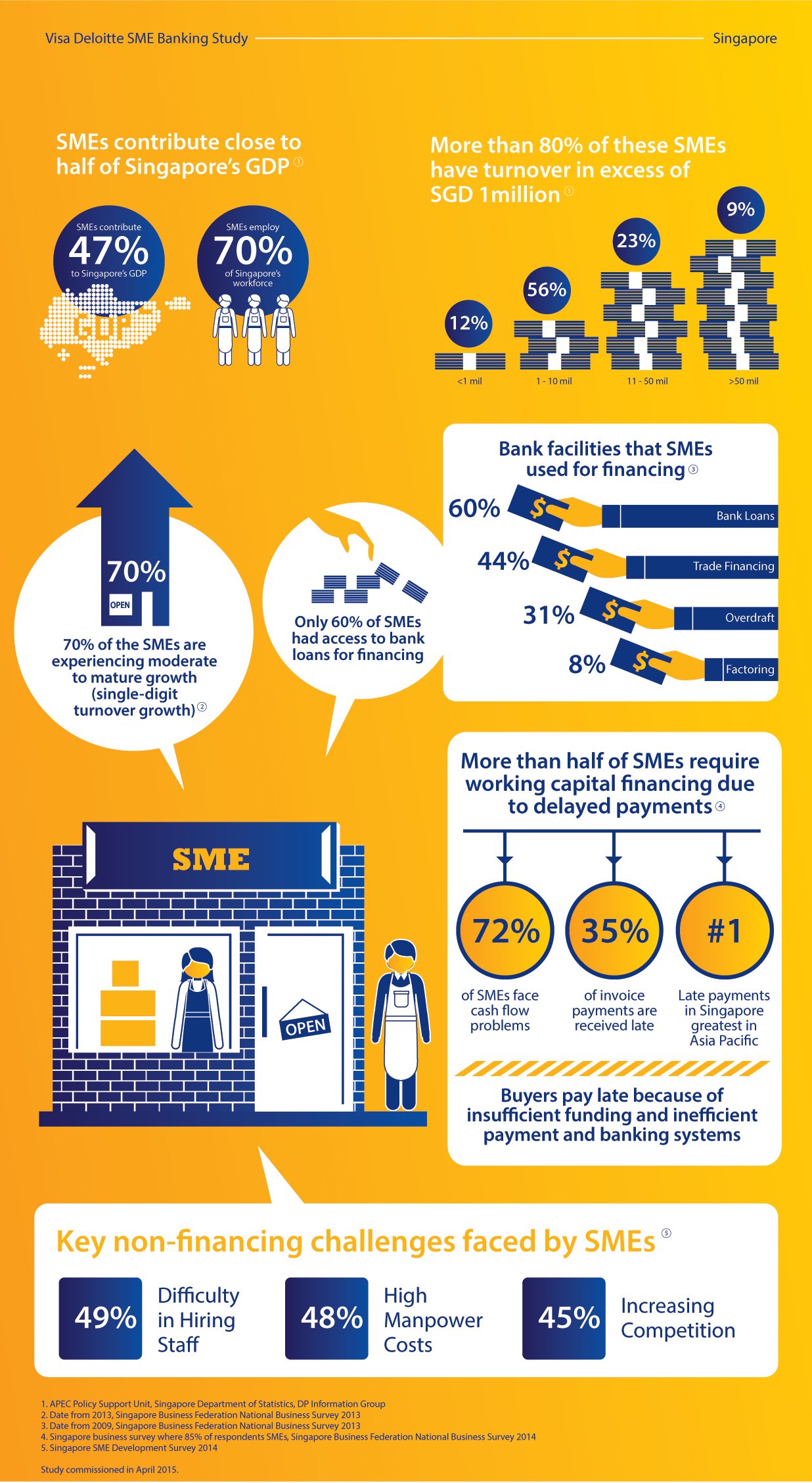 1 Deloitte Digital SME Banking study was commissioned by Visa in April 2015
2 Source: Asian Development Bank – Capital Market Financing for SMEs; World Bank Enterprise Survey; Singapore Business Federation National Business Survey 2013; ERIA SME Survey 2010; Small and Medium Enterprises (SMEs) Access to Finance in Selected East Asian Economies; ERIA Research Project Report 2010-14
3 Singapore Business Federation National Business Survey 2014
4 Singapore SME Development Survey 2014
About Visa
Visa Inc. (NYSE: V) is a global payments technology company that connects consumers, businesses, financial institutions, and governments in more than 200 countries and territories to fast, secure and reliable electronic payments. We operate one of the world's most advanced processing networks — VisaNet — that is capable of handling more than 65,000 transaction messages a second, with fraud protection for consumers and assured payment for merchants. Visa is not a bank and does not issue cards, extend credit, or set rates and fees for consumers. Visa's innovations; however, enable its financial institution customers to offer consumers more choices: pay now with debit, pay ahead of time with prepaid or pay later with credit products. For more information, visit www.visa.com.sg, http://visaapnews.asia/ and @VisaNews.
About Deloitte
Deloitte refers to one or more of Deloitte Touche Tohmatsu Limited, a UK private company limited by guarantee ("DTTL"), its network of member firms, and their related entities. DTTL and each of its member firms are legally separate and independent entities. DTTL (also referred to as "Deloitte Global") does not provide services to clients. Please see www.deloitte.com/about for a more detailed description of DTTL and its member firms.
Deloitte provides audit, consulting, financial advisory, risk management, tax and related services to public and private clients spanning multiple industries. With a globally connected network of member firms in more than 150 countries and territories, Deloitte brings world-class capabilities and high-quality service to clients, delivering the insights they need to address their most complex business challenges. Deloitte's more than 220,000 professionals are committed to making an impact that matters.
About Deloitte Southeast Asia
Deloitte Southeast Asia Ltd – a member firm of Deloitte Touche Tohmatsu Limited comprising Deloitte practices operating in Brunei, Cambodia, Guam, Indonesia, Lao PDR, Malaysia, Myanmar, Philippines, Singapore, Thailand and Vietnam – was established to deliver measurable value to the particular demands of increasingly intra-regional and fast growing companies and enterprises.
Comprising 270 partners and over 7,000 professionals in 25 office locations, the subsidiaries and affiliates of Deloitte Southeast Asia Ltd combine their technical expertise and deep industry knowledge to deliver consistent high quality services to companies in the region.
All services are provided through the individual country practices, their subsidiaries and affiliates which are separate and independent legal entities.