What it takes to win in sport and business
Some of Australia's celebrated athletes and business leaders shared their beliefs about what it takes to succeed at the Business of Winning event series hosted by CommBank and Visa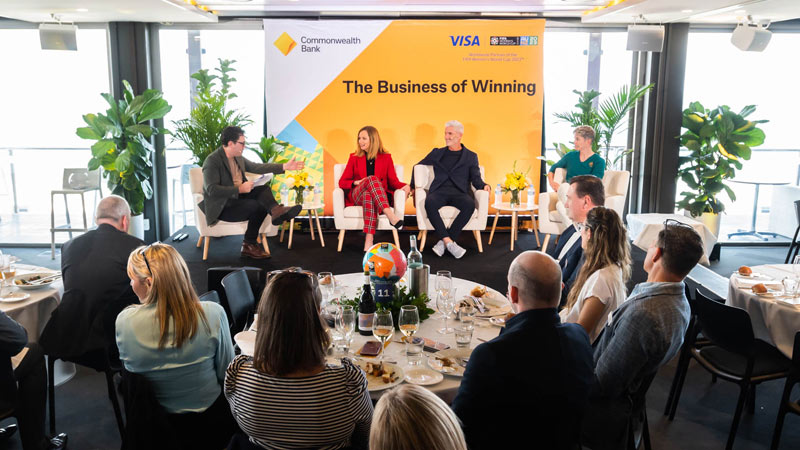 Coinciding with the FIFA Women's World Cup 2023TM this year, CommBank and Visa held the Business of Winning event series that invited some of the most successful athletes and business leaders in Australia to share their beliefs about winning on and off the field.
Held in several locations across regional Australia, the series featured a star-studded panel including entrepreneur and Shark Tank host Naomi Simson, former Matildas and Olympians Michelle Heyman and Melissa Barbieri, and Socceroo turned broadcaster and human rights activist, Craig Foster AM. Chris Taylor and Andrew Hansen, best known from The Chaser, were the masters of ceremonies.
Read on to find out the best insights and takeaways from the series.
Setting the gameplan
Like in sport, a gameplan is often the first step to success in business. For Naomi Simson, a great gameplan must be adaptable to help teams respond effectively to unforeseen circumstances. 
She said: "We've all got a plan. Then something happens," Simson said. Of the announcement that Sam Kerr wouldn't start in the opening FIFA Women's World Cup Match, she said, "someone's game plan went out the window. Just minutes before, we were told she wasn't going to play. Clearly, they had known earlier, but it's our job as leaders to keep people on their toes."
In Simson's experience, sound business planning has three critical pillars relating to your motivation, the measures of success and the consistent application of a business' core principles. "The first is why you do what you do. The purpose. The purpose is always how you make a difference to humanity."
Simson explained, "The second part of a plan is always about the scorecard," saying that financial outcomes are only one of many metrics. "The third piece is how we do business. It's our values. And this is something people can't copy." 
Embedding these foundational aspects not only helps a business stand apart but unlocks the lifeblood of a business in the form of trusted relationships with customers. For Simson, that's the higher-order goal.
Giving everyone a chance to succeed
The hallmarks of outstanding leadership in business and sports also overlap. There was a consensus among the panellists that respecting everyone's contribution to a team, identifying their strengths, and challenging others to be their best were enviable leadership attributes.
When talking about the power of recognising people, Craig Foster remarked, "They feel as though what they do is respected and rise up". Foster believes the best teams "need to create a more united group than anyone. So that emotional intelligence, the ability to bring the best out of every [player] in that group, in my view, is one of the hardest skills and one of the most important."
Both Melissa Barbieri and Michelle Heyman agreed, discussing coaches that drew out their best performances on and off the field. Barbieri said early recognition of her leadership potential by former Matildas' Head Coach Tom Sermanni would be crucial to earning her the CommBank Matildas captain's armband. "It empowered me. I didn't know that about myself, and it made me a stronger person in the group."
Appreciating the role everyone plays in a team's success was in sharp relief during the beginning rounds of the FIFA Women's World Cup. The Matildas may have been without their captain, but as Simson said, "It allowed us to see a broader team. It allowed others to fill the space."
Building resilience
Performing under immense pressure and navigating heavy workloads relies on building and maintaining mental fortitude. For athletes and business professionals alike, the road to the top is rarely smooth and resilience is crucial, particularly in the face of adversity.
Heyman said even after making the Matildas camp for the first time, the coach told her she wouldn't be selected until she had more experience. She left to join the Danish league but didn't perform to her expectations playing only five games.
"But I got back to Australia, got back into a Matildas camp and made the team," Heyman said. "It had nothing to do with my ability, [rather] listening and understanding what the coach needed from me, and I continued to push over those negative setbacks."
According to Foster, overcoming your fears and centring yourself is another determinant of performance under pressure. "You play against a team, and you've got 35,000 people who are screaming against you, and their job is to test you," Foster said. 
"If a player on the opposing side senses any weakness, they'll spend the whole game trying to open up that weakness. [But] the reality is if you are not ready to fail, you cannot achieve great things."
For the panellists, personal wellbeing is vital to responding when faced with opportunity or adversity. Foster said having perspective and gratitude is crucial, while Heyman says acknowledging and thanking yourself for your emotions can help. 
"Ultimately, if you're not looking after yourself as a business leader and a business owner, you are pretty much useless to anybody else," Simson said. "If there is one thing I urge people to remember, [it's] to breathe and take a moment for yourself."
Visa is a worldwide sponsor of the FIFA Women's World Cup Australia & New Zealand 2023TM and has championed women footballers on the pitch and into their future careers for over 15 years. Read more stories about Team Visa athletes and women-led small businesses here.