10 Women-Owned SMBs in AP receive a Visa grant at the Women's World Cup™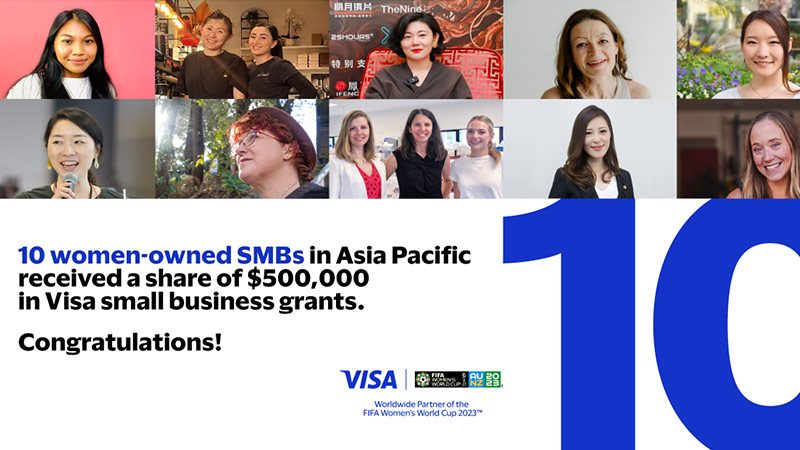 The final whistle at the FIFA Women's World Cup 2023™ in Australia and New Zealand sealed Spain as world champions and wrapped up Visa's first Player of The Match Women-Owned SMB Grant Program that distributed US$500,000 in grants to women-led small and medium businesses (SMBs) worldwide.
In Asia Pacific, a total of 10 SMBs across Asia Pacific received grants from Visa after heroic performances from their national teams, including historic wins for co-host New Zealand and the Philippines; strong showings from China, Japan, South Korea, and Vietnam; and Australia who reached a maiden semi-final. This meant a total of US$75,000 in grants were delivered to women-led small businesses in the region, demonstrating that sport can unite, inspire, and uplift women everywhere.

At Visa, we believe that behind every number, there is a story. Beneath each of the grant recipients are often stories of determination, hard work, and most of all, passion. Read on to find out more.
1. Remedii (Australia)
Remedii is a lightweight, heat/cool pain-relief range that can be worn comfortably all day. Founder Angie Poller developed her products initially to address pain arising from her rare medical condition - Complex regional pain syndrome (CRPS). A portion of business profits goes to raising awareness and increasing funding for CRPS which has no treatment or cure.
2. Brit's Kitchen (Australia)
Brit's Kitchen is a boutique café in Ryde, New South Wales renowned for its top-quality service, food, and coffee. As a young entrepreneur, founder Britney Macri spends 95% of her time in store, and is responsible for most of the baked goods that feature on her Instagram that bring return customers time after time.
3. Born Awesome (Australia)
Born Awesome provides disability advice to persons with accessibility challenges, as well as to service providers engaging with persons with disabilities. Founder Michele Wragg supports her clients through online tools, virtual learning, and most importantly, by building a network of connections for those in the disability sector.
4. Starr Personal Training (Australia)
Starr Personal Training, headed by Starr Hindley for over 20 years, provides highly personalised and holistic full-body training combined with neurokinetic therapy, designed to help clients achieve their best physical and emotional self.
5. TraditioNow (China)
By collaborating with over 200 artists in more than 120 initiatives, the TraditioNow platform aims to help traditional Chinese culture stay sustainable in the modern market. Guided by principles of "Trace, Re-Creation, and Revival", TraditioNow uplifts women artisans by developing products that promote traditional embroidery of ethnic minorities.
6. Matsuriba Inc. (Japan)
Established by Mayuko Mori, Matsuriba Inc. develops and operates programs that nurture in-house entrepreneurs, create new businesses, and generate proactive behaviour. One of their entrepreneurship programs is StartupBaseU18. Under the slogan "Don't Talk, Act. Don't Say, Show. Don't Promise, Prove", Matsuriba gives high school and technical college students opportunities to start new businesses.
7. Aricia Ginza Law Office (Japan)
Aricia Ginza Law Office specialises in legal matters commonly pertaining to women, including domestic violence, family law, estate law and real estate. Along with legal consultations and seminars, founder Gensa Takemori often appears in the media advocating for women. Knowing that many women hesitate to consult with a lawyer, Takemori aims to alleviate their concerns.
8. LORANS (Japan)
LORANS is a flower shop providing employment and training opportunities for persons with disabilities. It was founded by florist Fukuju Mizuki to address different social issues through business, aiming toward an "inclusive society for everyone to bloom". In 2021, LORANS launched a meal assistance program to support disadvantaged children, including those whose families were impacted by the pandemic.
9. Daisy Lab (New Zealand)
Daisy Lab develops precision fermentation food technology, aiming to produce a sustainable option for creating cow proteins. The business was co-founded by Irina Miller, Nikki Freed and Emily McIsaac. Ultimately, they want to halt the dependence on cows for trade in New Zealand and lessen the impact from high-intensity dairying.
10. DeWaste Solutions (The Philippines)
Most waste diversion issues come from a lack of accessible and functional waste management systems, according to celebrated sustainability entrepreneur Bernadette Ogot. She developed Dewaste Solutions, a one-stop sustainability-driven waste management solution based on the system she calls MARE!, meaning "female friend", in honour of women's contribution to waste management.

Visa is proud to have supported a momentous FIFA Women's World Cup 2023™. We look forward to continuing our work for women in sport and business in the road ahead.