Lessons from the payments industry for the sharing and movement of data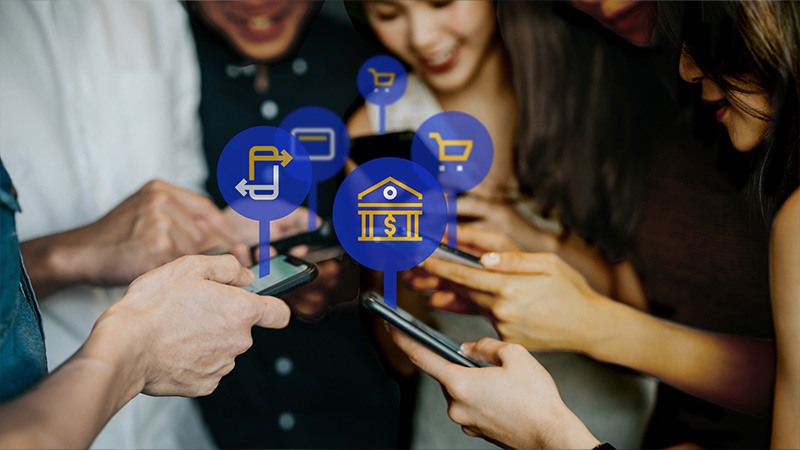 This article was first published on the Visa Asia Pacific News website on 7 October 2022.
Data provides a powerful reflection of a person's unique habits, behaviours, interests and lifestyles. Every time a person makes an online purchase, browses through social media platforms, or searches for information and directions online, a unique data footprint is created.
Businesses and governments around the world are already applying 'big data' to improve digital experiences and information for consumers. Consumers get personalised advertisements and notifications on our smartphones based on their digital activities. At the peak of the Covid-19 pandemic, many governments used smartphone-based location services to alert citizens who had been in close contact with Covid-positive individuals.
In theory, greater value is created when data sets from different platforms are combined to form a holistic picture of a person's unique needs and expectations. Yet in reality, data sets tend to be fragmented as they come from different sources. Many organisations face the challenge of where to get data, what kind of data to get and how to make sense of it, as well as how to comply with privacy laws governing data collection, use and transfer of such data. There is still a lot to be done before data sharing and movement can thrive.
There are key lessons to be drawn from Visa's six decade-long experience in moving money as the industry builds a strong foundation for effective data movement. In 2021, Visa processed 165 billion transactions worth $10.4 trillion on its network. This was possible through its continuous investment in infrastructure, security and its strong partnerships with ecosystem players including banks, fintechs and merchants.
Visa believes data sharing and movement must be secure, reliable and efficient - as it is for payments.
To achieve this, there are three key considerations:
First, interoperable standards would greatly facilitate data sharing between companies and data movement and across borders. A common language is needed to bring consistency to the way different parties share their data so it will be easier for them to participate in the data economy. Visa's global, interoperable standards for payments have enabled consumers and merchants to make and receive payments using multiple currencies, channels, or form factors. Interoperable standards has always been an important foundation for the industry as a whole to deliver commerce innovations at scale.
Second is safety and security. Data is an asset that must be stored, protected and moved in the same secure way as money. Visa invests heavily in ensuring and enhancing the security of every payment. Leveraging AI and data-driven solutions, Visa prevented approximately US$26 billion of losses from fraud annually[1]. Its experience in payments security shows consumers will be far more likely to share their data if they trust the process to be safe and secure.
Third, it is important to place the consumer journey at the heart of data sharing. Consumers are only willing for companies to share their data if they see tangible benefits and have enhanced experiences, especially as they become more attentive to how their data is used. The SG FinDex in Singapore is a good example of how data sharing benefits consumers. A one-stop platform was developed for individuals to access their financial information held by different government agencies and financial institutions, giving them a better understanding of their overall financial health and holistic financial planning.
A robust consent management approach is also important to the data sharing journey for consumers. Based on Visa's research, clarity and control is key to building consumer trust in the data sharing process. Consumers want to know what kind of data is being shared and with whom. Importantly, they want to be able to choose whether to 'opt-in' every time their personal data is used beyond the original purposes that they signed up for. 
While there is still a long way to go in facilitating greater data sharing and movement in Asia Pacific, Visa's experience with moving money shows a strong foundation needs to be built to accelerate the growth of the data economy. Today, Visa is starting to play a substantial role in shaping the future of the data sharing ecosystem. Through programs such as the Asia Pacific Visa Accelerator Program[2], Fintech Partner Connect[3] and its ongoing venture investments, Visa actively invites ecosystem players to collaborate to drive the growth of data sharing and movement across the region and beyond.
[1] Visa Fiscal Year 2021 Annual Report
[2] Visa's Accelerator program in Asia Pacific is designed for entrepreneurs to quickly test and validate partnership opportunities through an accelerated Proof of Concept (POC) over the course of 4-6 months. https://www.visa.com.sg/visa-everywhere/innovation/apaccelerator.html
[3] Fintech Partner Connect is designed to enable Visa's issuing clients in Asia Pacific to access and complement Visa's suite of value-added services, connect to next-generation fintech platforms across the digital account journey, and work on solutions including digital onboarding, card management, security and compliance, loyalty and rewards, personal finance management and data and API services. https://partner.visa.com/site/programs/fintech-partner-connect.html