Community, Connection, Creativity and Championship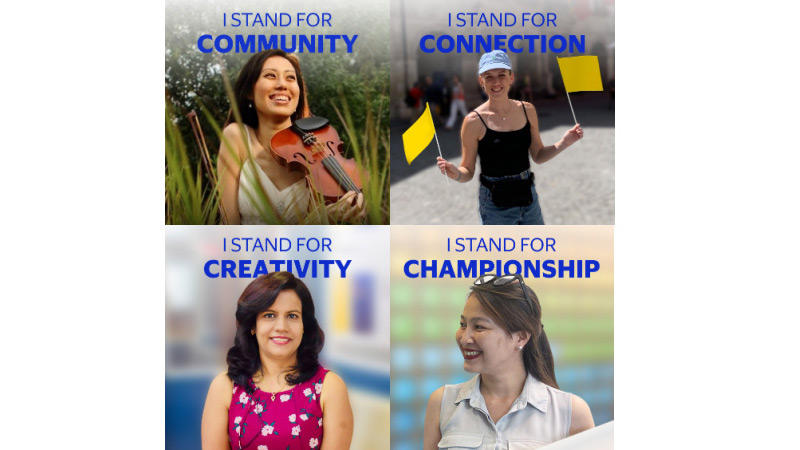 In our special month-long series on International Women's Month, women at Visa share their lessons learned, and what excites them most about their #LifeatVisa. Today, we hear from Azrin Anuar, Head of Visa Government Solutions, Asia Pacific, Lisa Sargent, Head of Merchant Partnerships, Merchant Sales and Acquiring, Asia Pacific, Mrudul Uchil, Senior Director & India site Head for Cybersecurity, and Thao Ho, Director, Digital Partnerships and Product Value-added Services, Vietnam.
Azrin, tell us a little bit about yourself?
I've been at Visa for 5 years, and worked in consulting and financial sectorpolicy before that. I'm passionate about inclusion and diversity, having served as our Government Engagement team's Asia Pacific Inclusion & Diversity Champion. I also volunteer my time to mentor others.
Outside of work, my three kids keep me busy and I enjoy reading non-fiction, composing and playing music, and musical theatre. Fun fact: I published a musical composition at 9, was a music teacher in my teens, toured Europe with an orchestra in my 20s, and been part of two bands in my lifetime.
How does your work at Visa connect to a cause you care about?
I grew up in a township called Subang Jaya in Malaysia. My dad used to walk to the local council office and pay his property taxes using cash. Today, my parents have retired, and I am no longer based in Malaysia, however I can help them out by paying the tax online via the local council's website.
With interactions like these, governments can create a better user experience for the public. It helps build trust, enable speed and certainty of government service delivery —and gives governments a host of valuable opportunities to deliver lasting value to communities and everyday people like me.  
Lisa, tell us a little bit about yourself?
Hi, I'm Lisa Sargent. Originally from Sydney, Australia, I'm now based in Singapore where I live with my husband Michael. I love travelling, reading and good coffee. Sport is a huge part of my life, when I'm not playing, I'm watching my favorite car racers, swimmers, and football teams.

Giving back to the community is also very important to me, I currently serve as a Non-Executive Director for Yogahood Australia and the Chair for Visa Women's Network in Asia Pacific.
What makes you excited to get to work each morning?
Our people and our clients. For me, most important part of my role is being a people leader and helping my team achieve their goals. I'm passionate about the development of talent, particularly young professionals and I feel very fortunate to have many graduates and interns part of our team.
I also love building relationships, learning about people from different backgrounds, and understanding what motivates our teams and partners to drive results. At Visa, no two days are the same and I find this highly energising as I am always learning something new every day.
Mrudul, tell us a little bit about yourself?
Hi, I'm Mrudul. I'm an engineer at my core, and I have over 18 years of experience in information technology, security and software architecture. I'm passionate about product design, and I have won over 20 patent awards. Outside of work I love dancing, exercising and painting, as well as spending time with my children.
How would you say a culture of belonging feeds into the design work you do?
Effective product design is a lesson of end-to-end ownership. It's important to listen to all opinions and feedback and make quick course corrections when needed. I've also learned to make decisions faster, not be afraid of failing and how to back stronger with maturity.
Thao, tell us a little bit about yourself?
My name is Thao Ho and I have been with Visa for five years since 2018. I've been a Digital Partnerships Champion for our Vietnam market for the last one year. Before that I spent four years in our Vietnam Product Team, leading Consumer Solutions. I joined Visa for the possibilities it offers, and when I was interviewing for the role, I mentioned to my hiring manager that I wanted to work with fintechs. Four years later, a position in the digital partnerships team opened, and I put up my hand for that role.
What does championship mean to you?
It ties in with my life philosophy around bringing value to others. I'm lucky I found it in the work I do at Visa. It's not only how we support clients with driving their business growth but also championing digitalisation and innovation to the masses in my home market of Vietnam. I believe when I get older and look back, I will be proud of how we helped the market digitalise.