The Network Providing Access to Financial Education Across Asia Pacific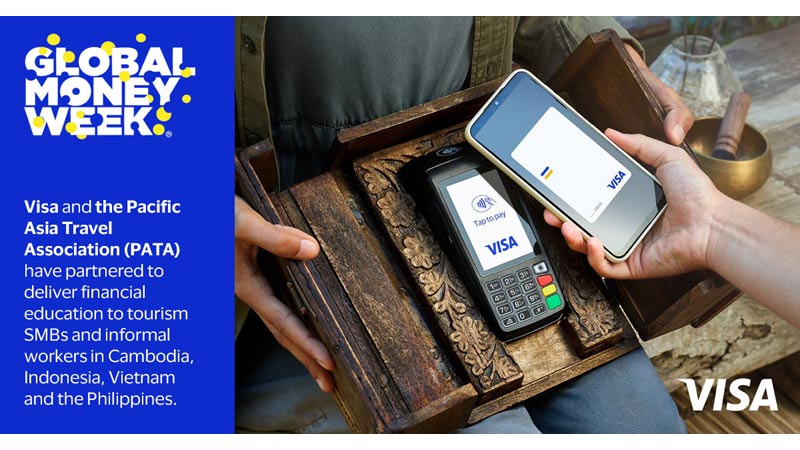 Visa's purpose is to uplift everyone, everywhere by being the best way to pay and be paid. Advancing inclusive, equitable and sustainable economic growth for everyone, everywhere is core to our purpose, but we know that we can't do it alone.
At Visa, we partner with NGOs, not-for-profits, financial institutions and governments across the globe to provide access to free financial education that will help individuals, businesses and communities build more prosperous and sustainable financial futures.
Helping SMBs tap the tourism rebound
International travel is on the rebound and SMBs in the tourism sector can take advantage of the recovery opportunity. Visa predicts more than 1 billion travellers will visit the Asia Pacific region by the end of 2023, and they will be tapping their Visa cards at restaurants and retail outlets.
Visa, together with PATA, the Pacific Asia Travel Association, is developing online learning modules using Visa's Practical Business Skills program to be rolled out to SMBs and tourism workers in Cambodia, the Philippines, Vietnam and Indonesia. In-person workshops will also upskill informal workers in Indonesia's tourism sector on digital financial skills and accepting digital payments.
From gamers to tech savvy entrepreneurs
Developing financial knowledge, skills, and positive habits early in life is key to financial wellbeing in adulthood, and research shows women and girls are generally less confident than their male counterparts when it comes to managing money.
Visa's partnership with Plan International makes financial education fun and easily accessible to girls through the Girl's Leadership Academy in Indonesia, and a gamified app called Hope Town Hero in the Philippines. Both platforms leverage Visa's Practical Money Skills financial education resources to teach young aspiring entrepreneurs bookkeeping, cash flow, and income statement preparation.
Boosting financial freedom for women
We believe that expanding women's inclusion in the financial system has significant economic benefits. It leads to an increased number of women who control capital, women entrepreneurs who can access that capital and women who benefit from those businesses as employees or customers.
Visa and The Asia Foundation are working together to deliver financial education programs to women-led small and micro businesses in rural and remote communities of Malaysia and Indonesia. Providing female entrepreneurs access to the digital economy, and business mentoring, will help them overcome some of the common challenges they face, including limited funding, lack of networks and expertise, and gender bias.
Advancing financial inclusion in Fiji
Ensuring Fijians have sufficient financial education and access to information to help them make informed financial decisions is a key objective of the Reserve Bank of Fiji's Fiji National Financial Inclusion Strategy 2022-2030.
To help realise this vision, Visa is partnering with Fiji Development Bank (FDB) to increase financial literacy among individual and small business loan applicants. During the online loan application process, applicants will be presented with pop-up financial education modules, provided by Visa, to help build their financial competency and promote sustainable money habits.
Empowering rural young women and students in Cambodia
Lack of financial education is a common barrier faced by women entrepreneurs in Cambodia. Visa has helped reduce those barriers through a two-year program in partnership with the Ministry of Women's Affairs (MoWA) and the National Bank of Cambodia (NBC) that provides face-to-face and virtual training on essential digital and financial literacy skills for young women entrepreneurs.
Cambodian students are also learning financial skills from comic book characters thanks to Visa's partnership with the Association of Banks in Cambodia, which distributed 10,000 financial literacy comic books, created by Visa, to high schoolers around the country.
Through these partnerships in Asia Pacific, Visa's Practical Money Skills and Practical Business Skills for small and micro business will benefit more than 60,000 people.