Laughter, longevity and lessons learned on the road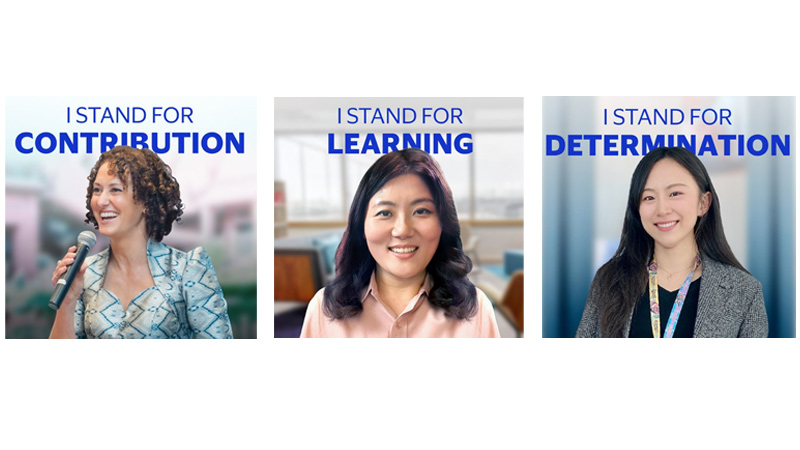 In our special month-long series on International Women's Month, women at Visa share their lessons learned, and what excites them most about their #lifeatVisa. Today, we hear from Ivana Tranchini, Country Manager for Cambodia, Jade Lee, Senior Director, Client Services, Korea and Mongolia, and Yin Yue, Senior Consulting Manager, Visa Consulting and Analytics.
Ivana, tell us a little bit about yourself?
I'm Australian, born of Italian immigrants. I've lived in four countries and travelled to almost every continent. My family is connected by food and my friends are everywhere. I'm a beach lover and active relaxer. I have high standards, probably take too many risks (well, that's what my mum thinks) and believe that laughter is an excellent tool for working through almost every tough situation.
Having worked in communications, product management, and now as a country manager, what do you enjoy most about the work you do? 
It's challenging to not live and breathe our work every day. In each role, I've seen how the projects I work on change the experience of merchants and consumers around me. For example, launching Apple Pay in New Zealand was awesome – one day it was just there and it was because of the contribution our team made!
Jade, tell us a little bit about yourself?
I am Jade Lee. I joined Visa 11 years ago and now and I lead the Client Services team for our Korea and Mongolia markets, based in Seoul, South Korea. 
Congratulations on your 11th year at Visa! What's a lesson that's seen you through? 
Nobody knows everything about their work, and that applies to me too. Our business evolves and expands constantly, and it's impossible to know everything about our work, as there's always something new to learn. So, I remind myself and my team of this lesson, and of the importance of knowing who to reach out to for the knowledge and information we need.  
Yin, tell us a little bit about yourself?
I am Yin Yue, a Senior Client Consulting Manager for our Visa Consulting and Analytics (VCA) Team in China, based in Shanghai. I have worked in consulting for over 10 years, and have served many financial institutions throughout my career. I joined Visa in 2020 and have delivered several consulting projects for major credit card centers in China. 
Outside work, I am an active amateur triathlon athlete and made to podium in many races. I also enjoy scuba diving a lot and became a PADI certified Open Water Scuba Instructor in 2017.
What have you learned from triathlon competitions that you can bring to your role in client services?
Triathlon requires balance and the ability to synergise cycling, swimming and running well. In my work, VCA has to collaborate with different functions, while working closely with clients and vendors. Competing in triathlons helps me understand how powerful the whole can be if I fully use and balance each part.
Training for a triathlon requires consistency and discipline to build endurance, strength, and skills. Similarly, supporting clients requires consistency in providing quality services and discipline in following through on commitments and deadlines.
Stay tuned for our next edition of the International Women's Month spotlight at Visa, coming out next week!